Here in Dallas, we know there's good news and bad news about working in the restaurant industry.  When Raising Cane's CEO Todd Graves announced a corporate relocation to Dallas, he called it "the best restaurant city in the country." Yes, there is a lot of hospitality industry talent here, and millions of hungry people.  On the other hand, there is a lot of talent here, and the competition is strong. I suppose that just makes industry veterans that stick with it that much more talented.  Like the song says, restaurateurs believe if you can make it here, you can make it anywhere.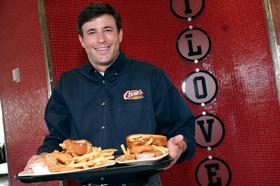 To paraphrase former Dallas Mayor and current US Trade Representative Ron Kirk, no one moves to Dallas for the water or the mountains. They move here to make money.
Raising Cane's chose Dallas over Los Angeles and Orlando for its Restaurant Support Office.  In his recent Dallas Business Journal article about the move, Steve Thompson asked me what it means for the Dallas market. I explained that we love restaurant support offices almost as much as we love corporate headquarters . . . but not quite.