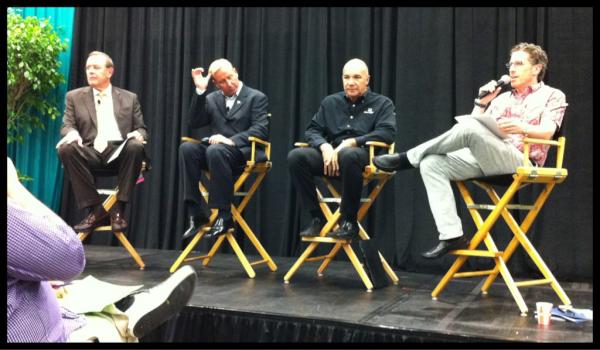 When the best companies aim to increase sales, the first thing they do is evaluate and improve the customer experience. Then, once it is up to standard, they use that to define their brand and enroll frequent users.  What is the point of focusing on bringing people through your front doors before you have something you are proud of, and that they understand, they want and they can't get everywhere else?
That was the unexpected common thread on two completely separate panels I moderated at the Southwest Food Service Expo recently.  All six of the industry professionals I spoke with agreed that the most important endeavor was getting the experience and the product right.  In other words, there is no point in talking about branding or converting occasional customers to regulars unless food, service, and atmosphere are perfected.
The two panels I moderated were entitled "How to Grow a Regular Customer" and "Who do you think you are?  A Branding Reality Check."  The former comprised three of Dallas' independent operators, Surrender client Ed Murph of Norma's Café, Jack Perkins of Maple & Motor, and Seth Smith of Lee Harvey's.
The latter  featured three CEOs: Carl Howard of Fazoli's,  John Longstreet of Quaker Steak and Lube, and Antonio Swad of Pizza Patron. Ron Ruggless of Nation's Restaurant News covered the panel in his article, "Effectively Building Your Restaurant's Brand."
The ideas were varied and creative:
Ed Murph talked about community involvement
Jack Perkin's shared an unconventional approach to mutual respect between guest and restaurant, realizing he and his team cannot serve everyone and make them happy
Seth Smith explained how he has mimicked the radio technique of a prize for the fifth caller for a daily free dinner on Facebook
Carl Howard talked about the use of china and food runners in a QSR environment
John Longstreet explained how the worst tables in his restaurants carry a 10% discount on the guest check
Antonio Swad sent me a note with the Acronym ABB: Always Be Branding, a nice take on Glengarry Glen Ross' ABC: Always Be Closing.
It  was not the methodology or gimmicks panelists were most interested in discussing.  When aspiring restaurateurs had questions at the end of both panels, the  message was clear . . . work on a concept that excites you and make it great.  Worry about the font on the menu later.
The Southwest Food Service Expo, celebrating the 75th Anniversary of the Texas Restaurant Association, was held in Dallas on June 24 & 25.
Photo:  Ron Ruggless via Twitter
Tags: casual dining, customer service, restaurant business, restaurant industry, restaurant trends