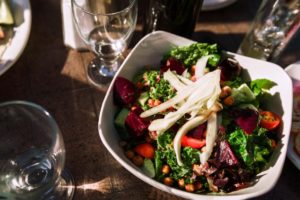 Welcome to the 2020s!  
 
If you want to make outstanding business decisions, you need to know what's coming next.
 
So, what will we be dealing with over the next 10 years? I have a few predictions. 

1. Rent and Food Delivery Expenses Will Go Down

The 2010s will be remembered as the golden age of restaurant rent.

Now, they're just too damn high.

As the online world continues to encroach onto retail storefronts, real estate developers will exhaust their current strategy of using restaurant rents to make up for lost revenue.

Delivery will also continue to grow, making restaurants smaller.

The fees you pay to third-party delivery services will go down because of competition (even Amazon, the country's most knowledgeable delivery company, has jumped out of the crowded restaurant delivery pool).

That's great, because restaurateurs feel like a fever is coming on because they have to pay 25-30% to these services.

2. Wages and Benefits Will Go Up

The last time the federal minimum wage went up? It was 2009 – technically, two decades back.

Paid sick leave will also be a thing. No diner wants to eat in a restaurant where sick people work.

Our restaurant associations have an opportunity to negotiate in the spirit of compromise to protect operators. Saying "no" has been a losing proposition for the industry over the years. 

3. Review Sites Lose Influence

Yelp, Google reviews, and the like will go the way of MySpace – old technology that used to be important.

Users, sensing manipulation, will become suspicious of online reviews. Fewer will allow themselves to be "influenced" by people who know less than they do.

Other than looking at beautiful food and atmosphere photographs shot by people they actually know, they won't be interested. 

4. Plant-Based Menu Items Will Continue to Surge

Like your restaurants, branding rules the day. The term "plant based" is a game changer (I wonder if Frank Luntz came up with it).

The fact that popular plant-based products are highly processed – meaning their health claims may not not hold up—does not matter to our guests.

As a result, plant-based menu items will increasingly populate your menus. 

5. Someone Will Say, "Let's Wait Until After the Election"

This will happen in 2020, 2024, and 2028 – for no reason other than procrastination or fear.

Look back. Can you think of any major election in your lifetime that would have dictated your business behavior had you been granted a do-over?

I didn't think so.
 
Let's Talk About the Start of Your Decade

Next year I start my fourth decade of advising owners of successful, independent, multi-unit restaurant companies.

I know restaurateurs are a resilient, adaptable, and creative group that knows how to please diners, enroll employees, and prosper – no matter what circumstances we encounter in the world.

I feel excited and gratified to be part of your progress, growth, innovation, and success as we start this new decade together.