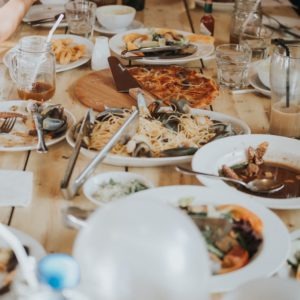 What would happen if you asked a bunch of restaurateurs how they'd react if they consistently received feedback that menu prices were too high?
First, you would see them shake their heads in frustration, roll their eyes in disbelief, and face-plant on their dining table as a gesture of heartfelt exasperation.
Then you would get an answer.
You would hear that they would survey their guests, do some focus groups, compare their prices to the competition, and look at portion sizes.
At the extreme there would be talk of couponing, BOGOs, and the dreaded "3 for $20s."
All those are defensive postures.
They just gives you more of what you don't want—and is exactly the opposite of what I recommend.
Instead, go on offense.
Don't Back Down—Demonstrate Your Value
If you are concerned about maintaining pricing in a competitive market, your restaurant's number one activity ought to be demonstrating value.
The most secure restaurants and brands in their segments stand for value—not value tied to a price point, but value in whatever price point they choose.
They offer food and drink, hospitality and service, and a vibe that is distinctive, so guests won't try to find it anywhere else.
They educate their staff to both uphold standards and communicate them to guests, through example and dialogue.
They understand their guests and give people something they want.
They know they are in the branding business, not the restaurant business, and they work hard to make sure their brand stands for what they want.
They do this through their logo, tag lines, marketing, advertising, social media, signage, menu, service, and hospitality.
What Not to Do
Restaurants that face price resistance do a poor job of selling their value.
They do not communicate the distinction of what they are doing.
They do not improve the quality or uniqueness of what they are offering.
They don't understand their guests—and make assumptions about what people want.
They do not have a clear brand proposition that differentiates them from the competition.
They do not explain to the guest why their experience feels special and worthwhile.
Raise Your Prices
A healthy restaurant business—one with an owner sporting a carefree attitude—increases prices every year.
Your costs are going up, and there is only one group of people who pays for expenses in your restaurants: your guests.
The competition forces you to be outstanding at what you do, so focus on letting everyone know about it.
Nobody wins the race to the bottom. You cannot cut your way to growth.
Over to you. How do you demonstrate value to your guests? What action will you take to protect your revenue?