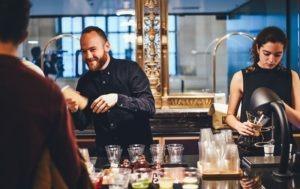 We have all seen the forecasts. They are all the same: In the coming years there will not be enough employees to staff our restaurants.
The idea of an ample labor supply is as archaic as phones connected to the walls by wires, 13-column pads, and the onion-skin booklets the credit card companies sent us to look up stolen card numbers when I first started.
Back when my career began — and I was a whiz-kid concert promoter, then corporate treasurer, and then nightclub owner — the biggest difference compared to today is that there used to be plenty of employees to choose from.
The Largest Program in the World Is Not Enough
Last week I spent three days in meetings with my fellow trustees and the staff of the Texas Restaurant Association Education Foundation (TRAEF) planning our activities for the year. TRAEF is focused on workforce development, recruiting, and retention of employees — the number one issue my clients, successful owners of growing independent restaurant companies, think about.
TRAEF is best known for Texas ProStart, a high school culinary and restaurant management program, and the 25,000 students who participate — making it the largest local school-based restaurant workforce development program in the world.
As the labor shortage looms, we are expanding our efforts to address the needs of existing workforce — and so should you.
"It is great that our arena has expanded to employee recruitment and retention," I told my peers on the TRAEF Board. "Because what we now know is employee recruitment and retention is impacted by everything we do in restaurants, in management and culture, for guests and employees. It is all the same thing now."
Seven Most Important Recruitment and Retention Issues
If you want your restaurants to be fully staffed with people you are proud of, you must do what I do with my clients, and constantly address these top seven issues with one thought in mind: "How does this appeal to a person who might otherwise want to work somewhere else?"
What you serve
How you serve
How you rally your team around a goal
How you make your restaurant into a cause
How you treat people and develop their careers
How you position your brand
How your interact with your community
Restaurateurs who can tell an attractive story to prospective employees and hear that same story back from their existing employees are going to be fully staffed with employees they are proud of. Others, not so much.
Over to you. When it comes to attracting the workforce, where are you strongest? And where do you need the most attention?