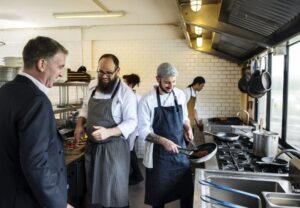 2020 has taken its place as the best year of our lifetimes to honor the American worker. 

Like everything else, Labor Day has taken on the personality of what we got this year-not what we typically encounter.  

With no experience to fall back on, we expect there will never be anything like it again, even though the pandemic has taught us that we should know better.
Appreciate the People Who Work with You 
Our workforce learned about being deemed essential, like being a firefighter, nurse, or police officer.

In the public eye, restaurant workers have gone from being viewed as a moldy stereotype-of people who can't find a job anywhere else-to being honored as people who risk their lives to provide meals that might become the best thing to happen to their customers that day…or that whole week!

Today, spend time reflecting and deciding on things you can do for the people in your company who have kept your restaurants going.  

Then do more. 
What can you do for your people?
To get you started, here are three real-life examples from the past six months practiced by people I work with:
Hire a food truck and put it in your parking lot so your people can have a great shift meal on your tab. 
Trade meal service with neighboring restaurants to create a similar result. 
Write your people a note about how you appreciate them. Enclose a small check. 
Make That Smart Investment
As I type this I can hear your thoughts booming in my brain.  

"Hey, Matthew, thanks a lot! But I don't really need any more expenses right now-my struggling stores are still losing money."

Reminder: The best restaurateurs invest money on things that provide great returns. 

And the people representing you and your brands every day give you the greatest return of all. 
Show Deserved Respect 
It bothers me when I hear people denigrate restaurant workers. 

Having spent almost four decades in the industry, I have collected stories about the workers I have seen, met, and learned from.

I have told those stories to my friends, family, neighbors, and colleagues, and even to a few members of Congress. 

I talk about the respect I have for what people have contributed, the way they support their families, and the thrilled guests they please. 

We tend to forget all this in the middle of the biggest business battle of our lives.  

So make this Labor Day a real day of appreciation. 

Happy Labor Day!