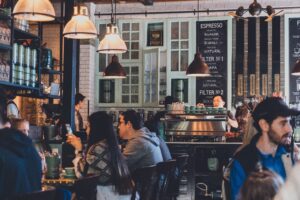 Stop looking at PPA.
Start focusing on recovering the lost guest and guest count.
If you know me well, you may be shocked that I would suggest you ever stop talking about PPA – even for one minute (or one shift).
Right now, though, top operators realize 2021's industry gains have all come from increased menu prices and PPA.
But guest counts are down.
While you celebrate current success – and differentiate today from the darkest days of closed dining rooms – expand your thinking to how great your business will look once all those lost guests come back.
You must find a way for them to come back – or replace them with happy new guests.
The Case of the Lost Guest
If you love your 2021 positive comps vs. 2019, treasure that love.
But also realize we're just a few weeks away from the more challenging world of 2022 comps vs. 2021.
Face it: People now come to your restaurant less often and spend more when they dine there.
So a laser focus on PPA and menu prices can be deceiving – because it obscures the fact that we have lost guests.
And even a small percentage of non-users leaves a major dent in financial performance; these marginal sales yield a disproportionate amount of profit.
Lost guests come in three categories:
Not back in the office; they make their lunches in their kitchen.
Not yet feeling comfortable or safe in your dining room.
Not traveling – so expense accounts, meal allowances, and leisure dollars go unspent.
What to Do Now
Smart operators take a pause from their PPA gains and do the analysis compared to 2019 pre-pandemic, when life probably felt like a peaceful walk in the park.
How many guests have you lost? How many did you lose across all days and meal periods? Can you identify sub-trends?
Most importantly: What action will you take to get them back or replace them?
Restaurants that dominate in the future will need to recapture all of their pre-pandemic guests and more.
You may be tempted – as you work hard to keep up with current challenges – to look at your comps and just feel really good.
Go ahead; enjoy that for a while. I don't want to take that bliss away from you.
Then do a sober evaluation of declining guest count.
Your plan to boost guest counts – back to historic peaks and beyond – remains a must this holiday season and the beginning of 2022.
Over to you. What have you identified about your guest count trend and what does your plan to boost those numbers look like?