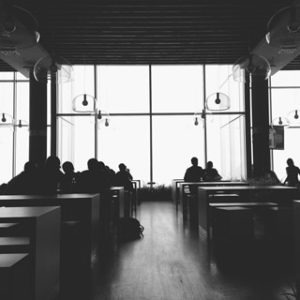 The professionals at the top of your successful multi-unit independent restaurant company are critical to your success, but they are not irreplaceable.   In some cases, replacing them will actually propel you forward.
Experience in the restaurant industry is very important, but there's also a lot to be said about the role of fresh ideas in propelling your business to new heights. People — even good, smart, motivated people — can sometimes stay too long in one place.
Never Let Your Food or Your People Become Stale
People in senior positions in independent restaurant companies may not stay fresh and open to the constant flood of new ideas required to stay ahead in our industry. In the best companies, people are expected to be energetic and open — or they won't be allowed to stay forever.
This is no slight to people who have provided decades of service and are the backbone of their companies, but it is important to look at our businesses clearly and realistically — and to be committed to change and improvement.
Fear of Not Changing is More Important than Fear of Change
I have worked with several client organizations where ownership was scared that top talent might leave, but — when they did — the people who replaced them ended up catapulting these restaurants to new heights.
One of my clients had two lifelong leaders who were nearing retirement age. Understandably, they were concerned about the coming loss.
However, years later, those leaders have moved on, and the people who have taken their places are fostering a culture of professionalism and improvement to build on their predecessors' career achievements. The future looks exciting.
Another client has a multi-unit leader who is going off to start their own business. This owner has no fear about the change; instead, the owner is excited about what is coming and who is going to be hired to lead the next phase of the company's life.
4 Top Ways to Keep Top Talent Fresh
Praise, appreciate, and reward people based on their ability to innovate, their ability to synthesize new trends and opportunities, and their lack of defensiveness about "the way we have always done it."
Celebrate examples of people who were willing to import or pilot new programs, policies, marketing and training tactics, and menu items that have added value to your restaurants and net worth.
Challenge people who come up short on these subjects to stop protecting their past decisions and be bold enough to make new ones.
Be on the lookout for new talent you can bring into your organization to propel you further more quickly.
The best operators evaluate top talent not only by the stability and leadership they have brought to their organization, but also by the pace of innovation they bring.