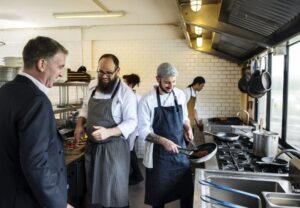 Last week I spoke to an Operations Director who had beefed up their management roster and had "one on the bench."

A heroic accomplishment in the current labor market!

They also lamented that young managers too often have an attitude of, "I am doing you a favor," as they go through their day.

People read the news on their phones about the Great Resignation.

They feel entitled because they've found out about the substantial leverage they have over where they work.

Less than two years ago they experienced surprise that they had been classified as "essential," and now this.  

We can't change the market, but we can change how they feel.

Operators really don't have any other choice – because managers will leave if you don't enroll and bond them to your organization.

Maybe not today, or tomorrow, but they will leave.
 
Matthew's 2022 Management Retention Checklist

To keep the managers you want at your company forever, follow these top 10 actions.
Give managers a little more than you think they can handle, give them the tools to succeed and accountability, and point to their growth.
Express confidence in them – and ask them what they would like to tackle next.   
Show them all the numbers. Educate them on financial analysis so they will feel trusted, important, and prepared to make an impact.
Have a system that teaches and measures your culture every day on every shift. Give managers the power to make restaurants special.
Communicate your vision of the company's future, and ask managers where they see themselves in that future. They experience an exciting and compelling upside.
Have a constant dialogue about the uniqueness and specialness of your concept. Ask managers why they chose to work with you and if they see anything special about your company. They will feel proud and secure.
Ask managers their opinion on major decisions. They will feel important, respected, and heard.
Pay them a little over market; then, give them an attainable bonus plan based on results (and costs you nothing). They will feel both appreciated and motivated.
Subsidize their vacations, with a room night or a plane ticket or a special dinner at their preferred destination. They will feel valued.
Give managers credit for your success – and you will achieve even more of it.
Keep Your Restaurants Successful

You can fight it, complain about it, or wait for it to change.

If you want to waste your time you can also ask for a supervisor at a call center to find out why their hold times are so long.

I cannot see far enough into the future to identify a time when the labor shortage will change, and I do not have a time machine.  

When your management roster shows stability, identifiable results become a lot easier to produce.  

Over to you. Which items on the checklist will keep the managers you want to retain for your company and your brands so you dominate your segment?