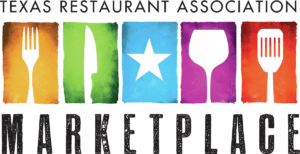 If you are anybody in our business in and around Texas, your usual mid-July habit is to head to Texas Restaurant Marketplace.
That is where you'll see new products and hear a wide range of speakers (including me) present new ideas about how to operate your company.
Or you might even learn the most by talking with one of your peers over a beer (yes, there is beverage sampling on the show floor).
Texas Restaurant Association Marketplace, the second largest industry event in the country, has transformed into a trade show/conference/party – this year at Houston's George R. Brown Convention Center Sunday and Monday.
Build Your Brand in My Free Ultimate Restaurant Culture Workshop
I get asked all the time: "Can you scale culture?"
The answer is a big yes!
In today's market you do not have a choice – because culture not only attracts diners; it also retains the best employees.
Oh yeah, and culture creates 100% of your profits.
Texas Restaurant Association asked me to lead The Ultimate Restaurant Culture Workshop, a workshop that's free to attendees.
This is for any restaurant owner who wants to
Strengthen and solidify the relationships between your guests and employees
Increase sales and profits
Set yourself apart from your competition
See me on the Big Bend Big Ideas Stage on the show floor on Monday, July 15, at 10:30 AM.
I will take you through the same process I use with my clients – successful owners of multi-unit independent restaurant companies—to identify, systematize, and measure culture.
Don't Let the Party Start Without You
Lone Start Bash takes place Sunday, July 14, from 5-9 PM at Minute Maid Park, home of the Houston Astros.
We'll have the place to ourselves, which is cool – the Astros will be in Arlington playing the Rangers. Go figure.
Lone Star Bash gives you a chance to enjoy Kyle Park live in concert, an adult beverage, and some great food created by 22 chefs on hand.
It benefits the Texas Restaurant Association Education Foundation (TRAEF), where I serve as a trustee, chairman of the restaurant education committee, and member of the executive committee.
TRAEF's biggest accomplishment? Texas ProStart, a workforce development high school culinary and management program with 25,000 participants in 250 high schools around the state.
These students deserve your support!
See You in Houston
In person beats a phone call, email, text, or video conference. So let's take this chance to visit in person. I would like to continue my tradition of meeting as many of the restaurateurs who follow my work as possible.
If you want to set a time to visit with me in person during Marketplace, click reply and let me know what days you will be there.