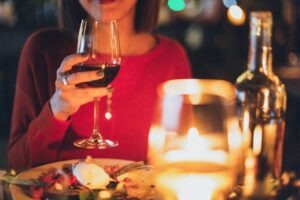 I've gone back and chosen five especially popular or meaningful posts from this year – a year when, just like you, I've pivoted to help people in a different way.
It's astonishing that, if you had shown me these five subjects a year ago, I would not have known what the heck you were talking about.
My clients, owners of successful multi-unit independent restaurant companies – and all the other people I have helped navigate the crisis – have told me that these five messages helped them the most.
1. The One Thing Restaurant Owners Must Do to Survive This Crisis
People know me as a work/life balance kind of guy – and that's exactly what the year 2020 has required us to emphasize.
This year, I've talked to more people than ever about how they take care of themselves, so they can put themselves in a position to survive, stabilize, and dominate.
2. These Three New COVID-Era Metrics Determine 2021 Restaurant Success
I always think about the future – even when the present requires laser-like focus.
In 2021, we will measure success in new ways.
Use my three new metrics to set yourself up for an upswing in 2021.
3. How Great Restaurants Stop Making Excuses, Move Beyond Wartime Footing
This post from July has aged better than that Cabernet in your cellar patiently waiting to be enjoyed.
If you've been paying attention, this crisis has told you exactly what you need to do to strengthen your organization so it can amp up results in the future.
Use that knowledge to make up for the ground you lost in 2020.
4. How Top Restaurateurs Build Strong Futures with Second-Generation Space
Opportunity always exists.
Hate to type it but, when the holidays end this year, we will see another significant wave of restaurant closures.
Which means 2021 will see a gold rush of second-generation space.
These key steps show you how to get ready to take advantage.
5. Why Top Owners Order To-Go from Their Own Restaurants
At the beginning of the year, you barely thought about to-go.
Then, for a while, it became your only business.
Top operators have built revenue through improving and adapting.
This tells you how.
Bonus Link: Free Workshop – Make Your Relationships Work in a COVID-Appropriate Way.
My best clients changed how they talked to their leaders, managers, staff, and guests (and even to themselves) in 2020.
I conducted different workshops educating operators on techniques I developed this year – for Texas Restaurant Association (at virtual TRA Marketplace), restaurantowner.com, and the University of Houston's Small Business Development Center.
Watch the TRA workshop here at no charge (it currently resides behind a paywall with the rest of the outstanding and timely TRA Marketplace's educational content).
Here, at the end of 2020, I want to tell you how much I appreciate the time you take to follow my work and share it with others.
Thank you for your trust in me!
My offer to all operators in need during this mess – to schedule a free call – continues.
Don't let anything stop you from finding a way to have a Happy New Year!