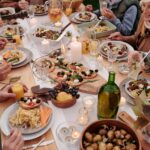 A funny thing happened on the way to the maybe-going-to-be-a-recession: Our business stabilized. 

My clients focus on growth again, the smell of fresh paint and carpet glue is in the air and new staffs learn in training classes.

With calm soft openings being as current as a vintage concert T-shirt, guests are lining up for the bragging rights of being the first to dine at a new restaurant. 

My clients know you can't live your life petrified by the feeling that anything can change at any moment – even though it absolutely can. 

So top operators address their growth issues in advance, not after the fact. 

Still, I am often asked to advise a company after unit growth on issues and areas that would have been best addressed before growth occurred. 
Matthew's Two Fundamentals of Smart Growth

After decades dealing with successful owners of multi-unit restaurant groups on their growth issues, all my research has identified two principles that any growing business must follow if they expect great results.

1. Shock test: A shock test is performed to see how a product holds up to the impact of sudden acceleration. It is used in product development to protect against explosion, drop, or collision.

While your restaurants are unlikely to explode, fall, or collide, you can still learn something from how the manufacturing sector uses shock tests.

When you run your restaurant company today the same as you will when you have more units, you smooth your path to growth.

Before your new units open, prepare your management teams to operate more independently, and expand your multi-unit team to handle what is coming.

2. Plan, Don't Just Hope: Be intentional, not opportunistic.

Have a carefully thought-out plan for the growth of your brands so you can see how (or if) each real estate opportunity fits.

Know your guest, know your proverbial buyer persona and customer archetype, and know what sets your brand apart from others in your segment.

Don't sign leases until that is all congruent. Don't let the opportunity of each real estate deal drive your growth plan.

You Are Not Rich Enough to Cut Corners

I see too many operators – often ones who, frankly, don't know better – endure a strenuous and uncomfortable period of trial and error.

Some cut corners because they do not want to spend the money they need to do things the right way.

Others ignore that temptation and invest up front – winning their own personal championship when they get results much more quickly.

Shock testing and sticking to plan costs money.

But it's the best money you will ever spend – especially when compared to how much your revenue and profits deteriorate because you grew without the right preparation.

Over to you. Which of these two principles, shock testing and planning – when adopted by your organization – will make the biggest difference in your growth?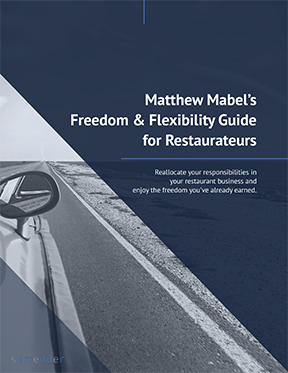 What's the point of owning a successful restaurant business if you don't have freedom?
Download Matthew Mabel's Freedom and Flexibility Guide for Restaurateurs to learn how to...
Step away for extended periods of time
Contribute to your community in a unique way
Spend more time with friends and family
Travel for weeks at a time
Split your residence at a vacation home for several months a year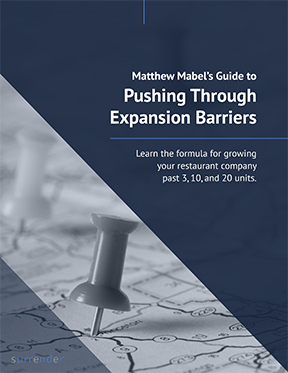 Want to grow your restaurant company past 3 units?
Enter your email address below to get our newsletter and the free guide to pushing through expansion barriers and mastering unit growth.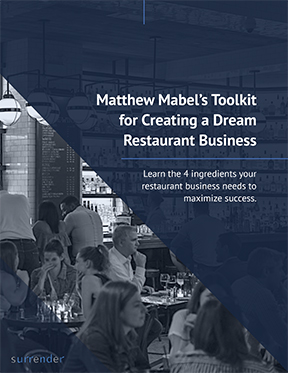 What would you rather own?
A good restaurant company?
Or one of the best restaurant companies in the world?
Enter your email address below to get our newsletter and the free toolkit to learn the 4 ingredients your restaurant business needs to maximize success.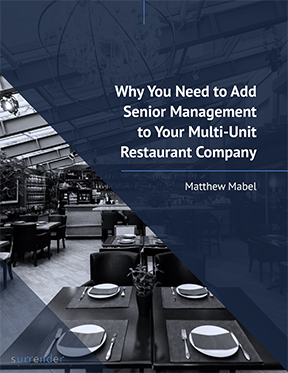 Want to get the most enjoyment from the success you've worked so hard for?
Want to maximize your net worth in addition to your lifestyle?
Enter your email address below to get our newsletter and the free guide to learn how to bring experienced senior management into your company.