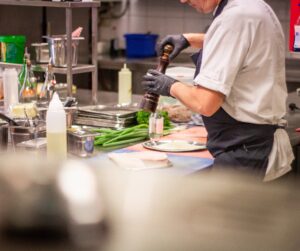 You may have heard the opinion that, when this crisis ends, chain restaurants will still be standing, but independents will be gone.

That idea is supported by the Independent Restaurant Coalition (IRC), which says 85% of independent restaurants will fail.  

That 85% number may generate headlines but, while the IRC does a lot of good work, on this they're wrong (as long as, like me, you don't count the office building café and the juice bar at the gym as restaurants).

I'd say it's more likely 20%-25% will close – a horrible number; however, much as I feel for those operators, the hard truth tells us that many of those restaurants never rose to the level of great businesses before the pandemic.

We all know to focus on what we can control and disregard what we can't.

We can't control politicians; we can only tell them what we want, donate, and vote.

We can only do our part to control the virus – and influence people around us.

So we go back to running restaurants. 
Use Your Unfair Competitive Advantage
One common sentiment I hear is that chain restaurants have all the advantages over the independents.

But that's backward. In a crisis like this, the independents have the advantages:
Relationships with guests who love them, and with whom they interact every day
Relationships with their community that holds them in high esteem and see them as defining their local culture
Flexibility and ability to try new things rapidly (and, just as quickly, adjust to what works and what doesn't) in service, menu, to go, delivery, and marketing.
So build up a long list of things to experiment with – and start trying them!
What We Do Now
My client 5-unit Norma's Café just rolled out a "State Fair of Norma's" menu, to satisfy that craving in the year of the unthinkable cancellation of the State Fair.

Another 5-unit client – Pok-e-Jo's BBQ – puts family meals on Eventbrite, a ticketing platform that charges a 3.5% commission (about 89% less than Uber Eats typically charges).

Currently, my clients are working on expanding outside dining onto their sidewalks and into their parking lots (and forming agreements to use neighbors' properties) to please guests who find comfort outside and danger inside.

Less than sixty days from now – when great patio weather lands here in Texas – we could still be at 50% capacity indoors, so outside expansion will contribute critical revenue. 

My clients feed their staff from other restaurants to show their appreciation or write personal letters of gratitude to all their managers (with a check enclosed).

Mark Cuban, Dallas Mavericks owner, TV star, and serial entrepreneur says, "If there's ever a benefit from a pandemic, it's that there will be people who have a new vision for the future. I call it America 2.0."
 
What new vision for every aspect of your operation have you developed?