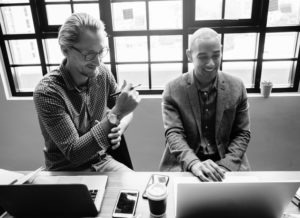 You already know about the missing pieces in your organization.

You experience nagging discomfort like a pebble in your running shoe or worse, a self-critical voice that hounds you about addressing them.

This will impact you especially if you have a lot of pride in what you have accomplished.

Before working with me, some of my clients think I will come in and point out everything they do wrong.

They worry they might feel ashamed, so they resist getting started.

They don't yet know that showing them how they succeed is one of the most rewarding things I do.

When I do this, my clients pump up and remember that excited and triumphant feeling they felt when they were a child and got acknowledged for conquering something for the first time.

Many of the huge successes my clients bring to me began with simply opening one restaurant with limited capital and experience. Fantastic!


Even Triathletes Only Do Three Things Well


The nature of humanity dictates that no one does everything well.

So feel no shame in owning a successful independent multi-unit restaurant company that can improve. There's an upside inside every success – just waiting to be realized.

If you feel embarrassed, humiliated, mortified, or uncomfortable about the one or two things in your organization you know you ought to have handled by now, get help!

The other day I talked to an owner of an 11-unit restaurant group who has devoted the past 15 years to being successful and owning a company most people would envy. "Things could be better," he told me. That opened up a great conversation that will lead to what he wants. 

One of my clients started working with me when, as a group of five restaurants, senior management felt stuck. However, when we changed roles for ownership that unstuck senior management – the group grew to 20 units.

When I arrived at another four-unit restaurant group it was kicking off a blinding amount of cash. It had no way to grow because the units were overly dependent on one person. So we built an organization around that brand to support up to 12 units.


Take the Skeletons Out of Your Closets
My wish for you? Accept no shame about the need to be better. You will allow your brand and your business to reach its unfulfilled potential.

Over to you. What one issue in your organization, when addressed, will open up fantastic new results and opportunities? What are you going to do about that?