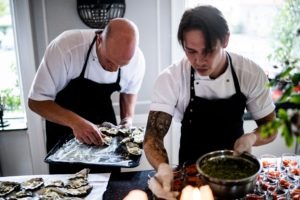 Restaurants that were just doing OK (or worse) before the COVID-19 crisis will probably end up closing for good – and I don't think we can save them.
It saddens me to write that.
Conversely, restaurants that entered this crisis producing great results, and had meaningful brands and culture, will dominate their segments in the future – as long as they pivot strongly and don't forget the tough lessons COVID-19 taught them.
You Have Got to Become the Person You Want to Be
Have you seen Rocketman, the Elton John biopic, either back in the days when theaters were open or maybe on pay-per-view while sheltering in place?
If so, you'll remember a scene where a young Elton hangs out backstage during the short period when he played in a backup band for American soul artists visiting Great Britain.
Completely emotionally lost, he feels like a "fat boy from nowhere" – writing songs, failing, and wanting to be rock star.
Then one of the Americans advises him, "You gotta kill the person you were born to be to become the person you want to be."
Which brings us back to you and your restaurant company during and post-COVID.
You must become the person you want to be now.
I have talked to so many of you over the years and I know you have thoughts about how to be better.
Many of you had been rewarded so well for not improving…so you didn't.
Now you must earn those rewards all over again .
Reinvent your leadership, your company, and the way you interact with your guests and employees.
You will end up owning one of the groups that dominates your segment when we return to full momentum, however long that takes.
This is the opportunity of a lifetime.
Treat it that way.
Come Back in a New Way
As your restaurants begin to come back – whether here in Texas, where you now have the option of using 25% of your dining room, or another state ahead or behind us on opening – the clock says it's "time to reinvent yourself."
Everyone has learned a lot in the past seven soul-crushing or character-building weeks.
We feel more understanding and are more precise, accepting, inquisitive, responsible, committed, resolute, creative and determined than we have ever been before.
Even in the face of record-breaking amounts of stress at home and at work.
These qualities come differently for each individual – some just naturally have them, while others have just recently shown up inspired by a combination of pandemic and economic danger.
Top Two Things to Do
Take an inventory of your personal qualities – the things that made you successful – and determine what you have learned about yourself during this crisis.
Be extremely conscious about using your new perspective, skills, and talents to work your way out of this mess, not only for your own benefit, but for your employees, vendors, and guests. Commit publicly to doing so – with your coworkers, family, and guests – so they hold you accountable for this new behavior.
As we rebuild our relationships with our guests, employees, revenue, and profit, the people who become the big winners will do more than just going back to their old habits.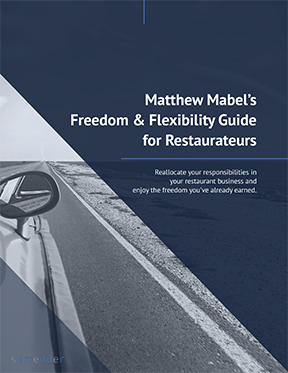 What's the point of owning a successful restaurant business if you don't have freedom?
Download Matthew Mabel's Freedom and Flexibility Guide for Restaurateurs to learn how to...
Step away for extended periods of time
Contribute to your community in a unique way
Spend more time with friends and family
Travel for weeks at a time
Split your residence at a vacation home for several months a year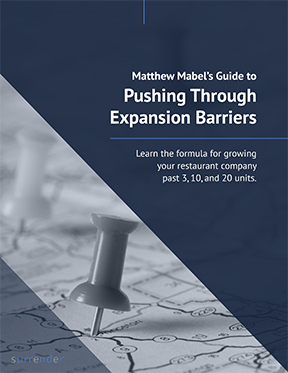 Want to grow your restaurant company past 3 units?
Enter your email address below to get our newsletter and the free guide to pushing through expansion barriers and mastering unit growth.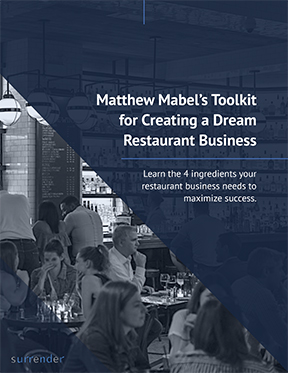 What would you rather own?
A good restaurant company?
Or one of the best restaurant companies in the world?
Enter your email address below to get our newsletter and the free toolkit to learn the 4 ingredients your restaurant business needs to maximize success.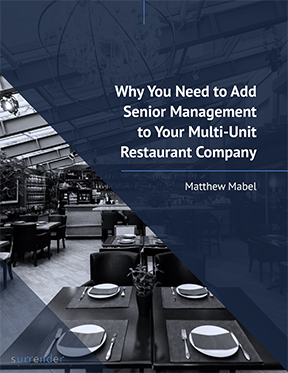 Want to get the most enjoyment from the success you've worked so hard for?
Want to maximize your net worth in addition to your lifestyle?
Enter your email address below to get our newsletter and the free guide to learn how to bring experienced senior management into your company.