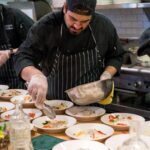 Top restaurateurs spend less of their precious time knowing their organization's numbers and more time ensuring that the people who run their restaurants have financial acuity.

They develop people who tell them (their boss) about prideful action undertaken to provide great guest experiences, loyal and talented employees, and numbers that meet or exceed budget.

The only sane way to professionally manage a successful multi-unit restaurant company involves ensuring people throughout know numbers and can slice and dice them from every angle.

Only then will they know how to impact and improve them.

No Exceptions to Mastering Numbers
As much as we talk about the keys to restaurant success being essentials such as culture, quality, uniqueness, service, hospitality, management, and education, we must also master numbers.
I have walked into highly profitable companies with inaccurate, untimely, or even unused financial statements (in one case they placed them in a drawer and, when the multi-millionaire owner wanted to know about cash on hand, they would look online at the bank).
Once I hired an operations director for a client and had to tell him, "I can't show you accurate numbers right now, but I promise: Within six months we will produce them – an accounting department is being built from scratch."
He did not run out of the room, and instead took on that challenge and created great success.
We corrected these extreme cases by adding financial fluency and discipline to harvest even more profit.
Start teaching general managers and managers more about financials.
No exceptions. Even the people you hired as superstars of hospitality must know the numbers.
Educate them to the point where they present their analysis of the numbers to you. Then praise and acknowledge that effort and add in anything they might have missed. 

How It Works
One operations director in my system leads a detailed statement review – with their owner, business manager, and me. She outlines details of victories and opportunities on financials. This shows that she stays conscious of them every day, and has led to the brand's ability to, after a long history, post record profits.

At other clients groups of general managers who operate under one brand in my system present and defend their P&Ls to each other and their operations director and help each other improve their condition in a spirit of accountability, healthy competition, empathy, and bragging rights.

One unit may have a better labor cost; another may have a better food cost – and the reason for that becomes activated at all units.

It is not that hard to add two points to the bottom line when you know how to find a quarter point eight times.

How about even more?

Spend your time taking them there and your company becomes more profitable – and your life becomes a lot easier.

Over to you. Does the level of financial acuity that goes deep in your organization support your goals? How much of this depends on you? What steps will you take to build this strength throughout your company?