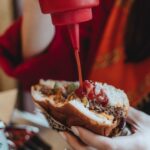 If I asked you, "What kind of company do you own and operate?" how would you answer?

Would you say, "A restaurant company"? Maybe if you're a wise guy, but it doesn't give me or you a whole lot to work with.

It reminds me of when I ask my daughter what happened in school today and she says, "Stuff."

Unfortunately, "a restaurant company" is about as deep as it goes for some owners' understanding of their business.

But when you develop deeper insights into the kind of company you own (or the kind you aspire to own) you'll be able to focus on and obtain results that used to feel unattainable.


Where Domino's and Krispy Kreme Lead Your Way
Two classic examples in our industry include Domino's announcing it would transition to being a technology company and Krispy Kreme realizing a future life of a doughnut logistics company.

So I ask my clients and my Restaurant Owners Success Club members to work with me to identify their true core business – even if the answer seems hidden or elusive at first – and we plan from there.

Once people know what to focus on, how to rally and motivate people, and frankly what they should start not doing, they become more powerful.

A recently started-up client called me in due to operational, organizational, and financial challenges.

I quickly saw that these were not issues holding them back, so I refocused this group from being an operations company (trying to perfect internal systems and guest experience) to being a sales and marketing company (devoted to telling the world about their not-very-well-known brand and segment to create traffic and revenue).


See the Difference?

One of my Restaurant Owners Success Club members thought about serving the outstanding and critically acclaimed items on their menu.

I showed them that their true business relates to preserving and developing two iconic brands, in existence for over 40 years, as part of the true fabric of the communities they serve.

Another doesn't just own a Mexican restaurant; he belongs to a group of operators reinventing Tex-Mex for the 21st century.

Talk about a couple of true callings!


Be Focused, Not Lazy

A tremendous amount of restaurant success comes from having a unique focus and mission that stretches organizational capability and motivates guests and employees to participate.

People can become intellectually lazy after years of success and just say, "I own restaurants." But what those restaurants represent and what they want to be when they grow up separates the outstanding operators from the OK operators.

When you dig down deep and define the true essence of your organization – sales and marketing, technology, doughnut logistics, the builder of iconic brands, or the reinvention of your segment – that is yet another of those opportunities I look for to add rocket fuel and accelerate success.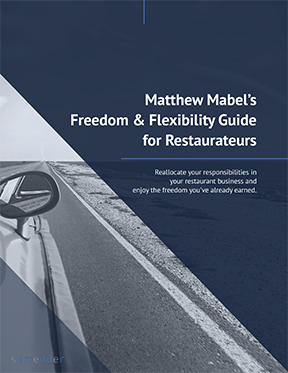 What's the point of owning a successful restaurant business if you don't have freedom?
Download Matthew Mabel's Freedom and Flexibility Guide for Restaurateurs to learn how to...
Step away for extended periods of time
Contribute to your community in a unique way
Spend more time with friends and family
Travel for weeks at a time
Split your residence at a vacation home for several months a year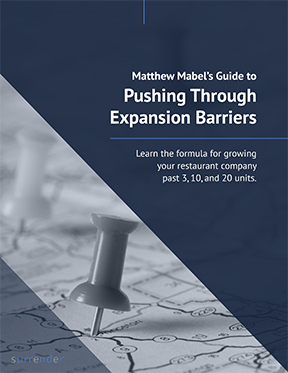 Want to grow your restaurant company past 3 units?
Enter your email address below to get our newsletter and the free guide to pushing through expansion barriers and mastering unit growth.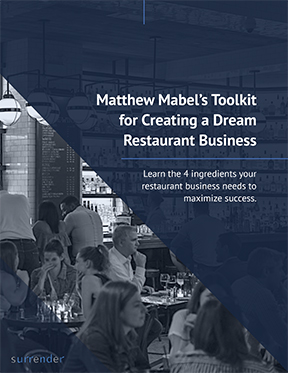 What would you rather own?
A good restaurant company?
Or one of the best restaurant companies in the world?
Enter your email address below to get our newsletter and the free toolkit to learn the 4 ingredients your restaurant business needs to maximize success.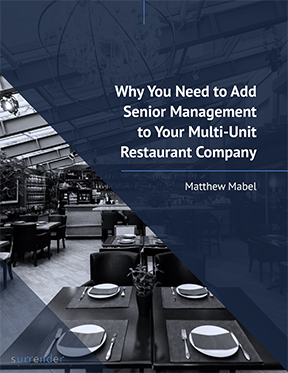 Want to get the most enjoyment from the success you've worked so hard for?
Want to maximize your net worth in addition to your lifestyle?
Enter your email address below to get our newsletter and the free guide to learn how to bring experienced senior management into your company.