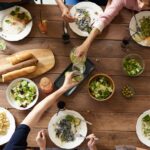 When people eat at home while staring vacantly at their phone, tablet, or screen – or even when they eat at the restaurant across the street – they miss the human hospitality factor that that you are capable of providing.

Hospitality is what sets you apart.

So focus on it. 

We're All in This Together
I write this from the Texas Restaurant Show, where I spoke on how we develop people now to grow their value and stay in the industry.
But let's face it: The number of attendees at trade shows or conventions is not nearly as high as it was pre-internet or pre-COVID.
That reflects the same kind of separation we're seeing between customers and restaurants.
While business may have grown in recent years because of to-go, delivery, and curbside customers, the essence of a restaurant experience includes being in a room with people – creating a shared experience.
And there are fewer and fewer of those types of experiences these days.
I can feel it, too. Even though I'm usually fine scheduled for multiple Zoom calls on most days, it's a lot of fun seeing people I know, meeting people I don't, and feeling we are all in this together in person, and not only as two-dimensional characters on a screen.
The experience I get at the Texas Restaurant Show.
The same applies to your restaurants.
Hospitality, Service, and the Human Connection
The best restaurant owners constantly work on providing great hospitality every day.
How many of your systems (and how much of your time) focuses on hospitality and service?
On stage at the show I talked about one of many systems I use with clients to build hospitality skills daily: adding micro-steps of hospitality to the calendar and stressing one of them every day pre-shift, during the shift, and when we say goodbye to employees who have finished their day of service.
Because, when hospitality increases, revenue increases.
Exemplary or Aspirational?
Hospitality works for your restaurants all the time.
That's why smart owners spend time every day on hospitality and have systems in their organizations that do the heavy lifting of reinforcing hospitality, so servers know that:
Auctioning food equates to a breakdown in standards.

A guest pouring their own drink into a glass from a bottle feels like a tragedy.

A welcome before a meal and a goodbye after a meal can be either perfunctory or heartfelt.

Everyone in service every day should have at least one outstanding story (and truthfully lots more) of something amazing they did for a guest that day.

Do people point to your restaurants when they define the words "service" and "hospitality"?

Or do you view some other restaurant as the benchmark and aspire to equal them one day?

How many more days will you wait to arrive there?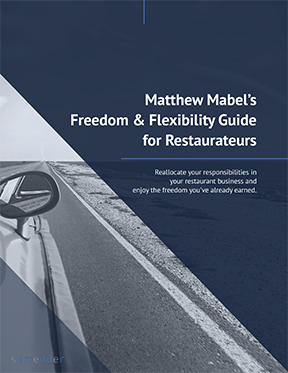 What's the point of owning a successful restaurant business if you don't have freedom?
Download Matthew Mabel's Freedom and Flexibility Guide for Restaurateurs to learn how to...
Step away for extended periods of time
Contribute to your community in a unique way
Spend more time with friends and family
Travel for weeks at a time
Split your residence at a vacation home for several months a year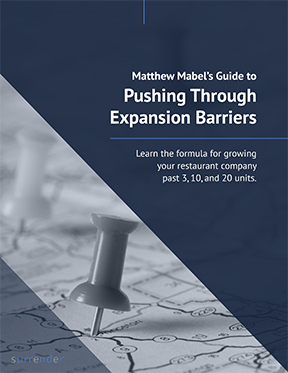 Want to grow your restaurant company past 3 units?
Enter your email address below to get our newsletter and the free guide to pushing through expansion barriers and mastering unit growth.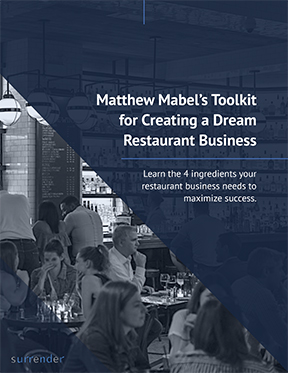 What would you rather own?
A good restaurant company?
Or one of the best restaurant companies in the world?
Enter your email address below to get our newsletter and the free toolkit to learn the 4 ingredients your restaurant business needs to maximize success.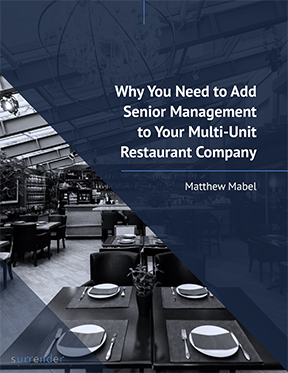 Want to get the most enjoyment from the success you've worked so hard for?
Want to maximize your net worth in addition to your lifestyle?
Enter your email address below to get our newsletter and the free guide to learn how to bring experienced senior management into your company.