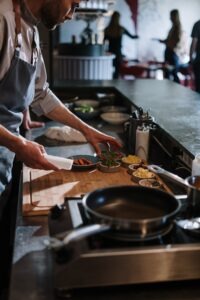 It wasn't long ago that my car dealer was sending me letters every week, asking me to sell them back my car for a crazy premium.

I should have done it – because the price of used cars just fell off a cliff.

Car dealers have cars in their showrooms again.

Their factories are back to manufacturing enough cars.

Meanwhile we still have not figured out a way to manufacture enough restaurant employees.

Bolstered Training Is Key

You watch the cost of training hours on your P&L, but where do you watch the effectiveness training?

Restaurants are now hiring people with middling experience and paying them more than ever before and that makes effective training more important than ever.

Only by training and educating people in a new way can you guarantee guest experiences are up to standard – and build your brand and reputation.
So Do This

Accept current reality.

Assemble everyone who touches training and discuss how to intensify your program, especially if you have not done so post-pandemic.

And, if you have not paid attention and invested in short-form video training – the kind that meets your employees in the format they prefer 24/7 – focus on that too.

The best restaurateurs have always invested (and re-invested) in training.

That hasn't changed, and they're now training in more depth, in more fundamentals, in more repetition, to raise up new employees – the "next men up" of the restaurant business.

And don't forget your certified trainers, who want tremendous career-boosting wide-smile fulfillment in the role they take in making your restaurants great.

Give your trainers the boost they need; reduce their frustration by giving them the tools to produce the results you want.
This Is Permanent

When I first encountered the labor shortage after COVID lockdowns, I thought it would be temporary.

I was wrong.

This won't change, and the declining odds of a recession underline that even more intensely.

If you have dealt with a call center lately, you realize that service continues to decline.

It recently took me 90 minutes with my home alarm company's tech support to tell me how to turn my broken system off.

The culprit? Less-qualified people who need much more training and education, and don't always receive it.

Smart operators beat the competition by training and educating like never before – because no one is competing by communicating with pagers in the cell phone age.

Over to you. How will you stay on top of education now and support training and education to meet and beat your guests' expectations and build revenue and reputation?