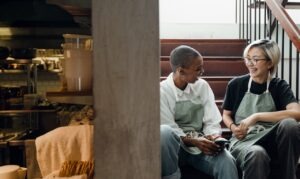 Have you driven by any of those restaurants with expensive dark and empty dining rooms, waiting a little longer to open – because their management team has not been fully populated?

Finding great restaurant managers has always been a challenge.

These days, though, many owners I talk to feel like that challenge is becoming more of a burden.

My best clients focus on brand new and expanded ways of retaining talented managers who are already on duty.

My Client's Retention Experiment

One of my long-time clients, OPH-DFW, the operators of seven Original Pancake House units, owned by Mark Davis Bailey and Jonathan Seyoum – also a member of my Restaurant Owners Success Club – started to experiment with a way to bond managers to their company, and increase retention significantly, and boost all important engagement.

The method? Identifying the connection between each manager's career vision and the jobs they hold in their organization.

The idea? Take managers through a process that defines what they would like to see in their career and show them how OPH can take them there.

Hear, "I want to become a general manager. I want to become a master of the P&L. I want to be a multi-unit supervisor one day – or even the COO."

Then track back the specific steps to getting them there. 
 
Ask About Their Personal Goals

I identified another piece to this topic that I spend so much time thinking about: linking their personal vision to what they work on at your company.

"I want to pay for my kid's college. I want my spouse to have the option to work part time. I want to pursue my hobby of X or study Y, I want to contribute to more to my community, I want a bigger house so my kids can have their own rooms."

Find out what your managers want to do in their business and personal life. Create a "no one has ever asked me that before" moment.

Then, over time, show them how your company moves them to the career (and life) of their dreams – if they're willing to do the work.

Make People Feel a Higher Level of Interest

Last week I interviewed a smart and creative candidate for a General Manager for one of my client's elaborate new restaurants. 

At the end of the interview she said, "You asked great questions no one has ever asked me before!"

I knew I had piqued her interest by taking an interest in her – and making sure that, if we work together, she expects great experiences and success. 

Create a compelling argument about why individuals ought to stay in their current work relationship and not think about turning their heads to look at whatever else attractive is walking by.  The by-product of which is high value increased effectiveness and engagement.

Sure, this takes time, but a whole lot less time than it takes to replace great people. 

Over to you. What can you learn about your individual managers that will allow you to connect their goals to yours and increase results and management retention? When do you start?