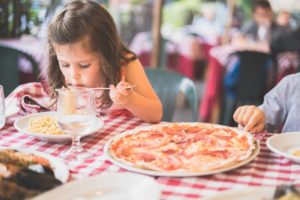 Your company is organized functionally. That sounds efficient, but it's actually the exact opposite of what will get you the best result.
Instead, organize by what your guests want.
You have servers, cooks, bussers, hosts, general managers, managers, shift leaders, marketers, trainers, group salespeople, and office staff — all focused on their process: what their departments do, how they execute, what routines and behaviors they carry out every day, what metrics they are expected to achieve.
Sure, there is a good chance your mission, vision, or culture focuses on the guest, but that brings attention to the why (the reason for being), not the what: how to behave on every shift.
Instead, consider the different types of guests you serve. Also, what guests would you like to pick off from your competition?
One of my clients, an owner of a successful independent multi-unit restaurant company, uncovered an entirely new guest type and is enjoying an extra turn at lunch time. That is huge.
Another began to focus on their specific guest, and cut out the time they wasted appealing to a few guests on the periphery. They turned around a two-year negative guest count trend.
Whether you have one — or more than one — target, buyer, or customer persona, organize your business around them. Ask your people to generate ideas on how to reach and motivate the different types of guests. Then, organize your company around those guests.
In its simplest form, for instance, many restaurants have a lunch guest, a dinner guest, and a weekend brunch guest. Yes, each guest type requires a different menu, but it is more than that: each guest type has different needs.
Sure, your lunch guest has to get back to work quickly, your dinner guest wants more attention, and your brunch guest either is nursing a hangover or just came from church. But go deeper than that.
Change your mindset. Ask your team to think about their particular function by guest type.
Top Steps Companies Use to Focus on Guest Types
Identify current and future guest personas.
Ask cross-functional teams to identify those guests' individual needs and wants. See where you are doing that well and where there is opportunity to do new and greater things.
Challenge your functional teams to adapt new habits, behaviors, and outcomes to address what they learned in Step 2.
Watch your organization live up to its promise to be truly guest focused — increase revenue, profit, and guest satisfaction.
Your successful multi-unit independent restaurant company does not succeed because of process; it succeeds because of guests. Change your thinking to approach your business that way — and watch your restaurants flourish.