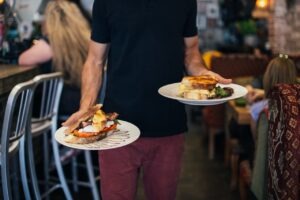 One of my peers in my international consulting community sent me the results of a small business owner poll taken by Alignable, the small business referral network, about reasons for the hiring shortage.

It was interesting…and predictable, with unemployment presented as the #1 reason and stimulus checks as #2.

But then the poll's fatal flaw flashed across my brain.

Alignable asked the wrong people.  

If they had polled the actual workforce, the data would be actionable.

Instead, the only thing the Alignable poll gave us was a breakdown of business owners' opinions.

It's Not You, It's Them

This reminded me of the hidden problem, the biggest misconception about the labor shortage.

Restaurant owners think the labor shortage is about their companies.

They are wrong.  

It is about the people they want to enroll in work.

The end of the $300 weekly federal subsidy happens in TX on June 26, and happened in some states already.

That will change things – but be clear – not as much as you expect, and we will still be dealing with the Olympics of staffing challenges.  

What to Do Now

People have run away from our industry – and we either have to find new ones or entice the old ones to run back.

Look beyond the end of federal unemployment subsidies and do the work internally to attract, enroll, and retain employees.

That calls for an all-hands-on-deck review of every detail influencing employee behavior: from the time they click on a job application, to the time they decide your restaurant can be their work home.

Assign one person in your organization to lead efforts. In a bigger company, choose an HR person. In a smaller company, pick a manager who really gets it about what employees respond to.

You know the one.

Once you create a line-item detail for every step of the applicant-to-employee journey, improve each line – from the way you respond to people the first time they click on you to the culture and flexibility they want when you hire them.

And, yes, rates of pay.  

If possible, do this before the unemployment subsidy ends in your state, to double the impact.

Use high levels of creativity. Everything you can think of.

For instance, at the first meeting of my new Restaurant Owners Success Club on Wednesday, we will talk to representatives from Great Place to Work, the global authority on workplace culture.

Improvements must happen now – thankfully, when money is flowing and revenue is increasing as we exit the restaurant crisis period of the pandemic.

Over to you. What take-charge leader will handle this assignment in your organization? What does progress look like?