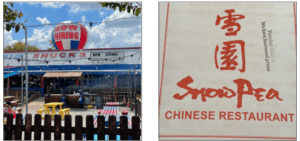 Our strength was tested in 2021.
 
Good news: We passed. 
 
One of the best coping mechanisms remains laughter.  
 
Above find my two favorite iconic pictures from 2021:
The restaurant I drove by that put a hot-air balloon on the roof to attract talent, and
The menu I found in my mailbox stamped with the message, "Tuesday: Closed; We Have Increased Prices."
 
Sometimes we laugh. Other times we just do the work of improving our companies.
 
I've gone back and chosen five especially popular or meaningful posts from 2021 – a hectic but surprisingly successful year for the restaurants I work with.    
 
My clients and my readers told me that these messages were the ones that most helped them and put them into action this year.
 
I can't remember a year when people worked so hard on so many aspects of our business.

The work we did took us from being negative and worried to realizing a rewarding upswing.
 
Here, at the end of 2021, I want to tell you how much I appreciate the time you take to follow my work and share it with others.