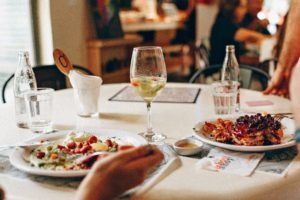 You're out over your skis – going too fast and getting ahead of yourself.
You own a successful independent multi-unit restaurant group and your ability to sign leases is outpacing your organization's ability to perform.
Future projections? Dazzling.
But you have zero track record at the forecasted level to support them.
The Difference Between Praying and Knowing
You started out painstakingly developing your concept.
Now, instead of growing your asset methodically, you risk everything.
Rather than giving your little baby the tender, loving care it deserves you simply drop it off at daycare.
You pray for a good result – and that you don't end up in the newspapers as a victim of a scandal.
We have all seen cases of fast growth leading to demise.
Some of the more recent cases of that here in Texas include My Fit Foods and VertsKabap/Noon Mediterranean.
When I work with clients who risk growing too fast we impose a moratorium on new deals until we have everything in order, so the business can support not only existing units but future units, as well.
This challenges some operators who have deal addictions or multiply everything in their head times a multiple of future units as they plan their glorious life.
Four Signs of Going Too Fast
There is not enough of you to go around. The inspiration and leadership that made you successful becomes diluted. You know your lawyer, real estate broker, and accountant better than your kids. What do you do? Not more deals – instead codify yourself and institutionalize systems that replace what you used to do when you owned a smaller company.
Inconsistent store performance. You open a store or two that does not hit like the others did. At first you don't understand why – after all, you have such a great history. What you must do is establish the right training, education, management development, marketing, and site selection systems.
Your unit count goes up faster than your income. You don't have as much fun as you used to. You start to question what inspired this dream in the first place. Your founder skills have not translated or transitioned to lead a bigger organization. You'll have to reinvent yourself and bring in senior management (who will pay for themselves) to alleviate this. For more on this, watch this quick video.
When you make the commitment to stop doing deals and instead focus on building the right support and systems for existing and future units, you protect your brand and your asset.
You make sure the multi-unit people in your organization occupy the right places with the right programs to support your restaurants.
Over to you. What signs does your organization show of growing too fast? When will you slow down, ensure stability, and make corrections?