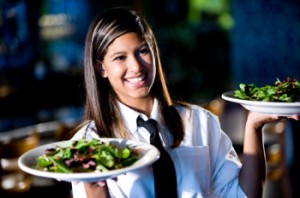 I had a pizza delivery at my house last week but, sadly, the Caesar salad we had ordered was missing. No big deal, we had plenty of salad in the refrigerator and were happy to have our pizza. We needed to eat quickly to get to a basketball game. A half hour later the doorbell rang again, and the driver re-appeared to tell me, "my manager insisted I come back with this Caesar salad."
Earlier that day I had eaten lunch in a restaurant where there was a confusing wait to get a table, a dirty dining room full of un-bussed tables and a dearth of menu items that were actually available. The manager told me, "I hope that this will not dissuade you from coming back," which sounded to me like a punch line to an improv skit.
It is pretty well accepted that service is in decline and there are opportunitiess for the best companies to stand out from the crowd by providing this fading commodity. But the truth is, you can find pockets of good service and bad service anywhere.
Some people do it well, others don't. Which team do you want to be on?
In the April issue of Restaurant Startup and Growth I am quoted extensively in a cover story called Star Power, How to Create a Culture of Service in Your Restaurant written by Amelia Levin. It serves as a reminder that service can be taught. Like most things, it is simply a matter of whether you put energy into your company's service level, or not.
Another good article on this subject is the cover story of April's Restaurantville Monthy. Putting Your Best Foot Forward, Keys to Exceptional Customer Serviceby Wendy Sari. That one features quotes from two of Surrender's clients, Mark Davis Bailey of The Original Pancake House DFW and Estella Martinez of Matt's Rancho Martinez.
Every business gets to decide how important service is to their overall strategy. There is no question that some companies prosper with a low-cost, low-service philosophy. But most of the people I come into contact with advocate the benefits of outstanding customer service. Like any goal that is stated but unachieved, there are simple fundamental steps that can lead to creating a culture of service. If everybody did it, there would be no more complaining about the decline of service. But there would not be a competitive advantage for providing great service, either.