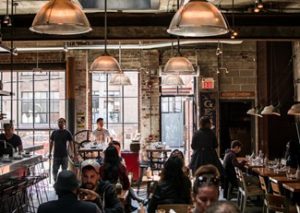 Chains won the pandemic – independent restaurants lost. 

Chains leveraged their financial and resource superiority and, in a frightening (for us in the independent world) turn of events, learned to act quickly. 

Chili's created a virtual brand across 1,000 units in a few months.

Chipotle waved what looked like a magic technology wand, and built digital sales to 48% off revenue in 2021.

So what do we do now?
 
Chains vs. Independents

Throughout my career, I have watched the tennis match between chain and independent restaurants – back and forth, back and forth. 

A few years ago, every chain person I met asked me, "How do independents please their guests, connect with employees, and become treasured in their communities?" 

Now independents look at me warily and ask, "How can we learn from the chains?" 
 
Act Like You Don't Own a Chain

During the restaurant crisis portion of the pandemic, I implored clients to act more like chains in order to survive; hoard cash, embrace technology, and streamline.

And they all survived.
 
Now, things have changed – and I'm telling them to go in the opposite direction.  

You own a successful independent multi-unit restaurant company. So act like it. 
Learn from People. Stay close to the people who make your business go: guests, management, staff, investors, bankers, and neighbors. Have real personal interaction with them to glean the information that will lead to super-glued brand loyalty and turbocharged decision-making. Start every day way ahead of the chains you compete with.  
 
Plan Your Technology. You'll never catch up to the chains, instead move closer to them – as close as possible.  Prioritize and then add technology pieces one at a time. You must have a technology enhancement plan for all aspects of our business – for the guest, in the units, and in your office. One person has to have responsibility for technological results.
 
Stay Nimble. Test ideas, pilot programs, and react quickly in ways big corporate restaurant chains could never do. With my best clients, we always try new things in our menu offerings, education, communication, inspiration, management, awareness of the completion, and marketing. We have so much going on that I hear myself saying, "OK. Let's just make this work and I promise: For the next month, I won't give you anything new." 

Play to Your Strengths

Practice playing to your strengths every day under any conditions to steadily upgrade your business. 

In the future – when the wheel turns and independents start encroaching on chain businesses again – we will talk about the organizations that do this and come out on top. 

Over to you. It's time to activate your competitive advantage over chains. How will you do that?