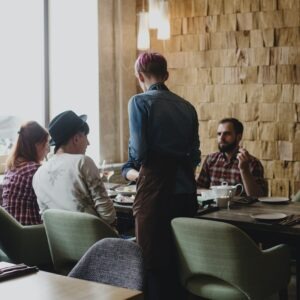 When you log on to your favorite news site to see that 25% or 40% or 85% of restaurants will not survive this mess, you feel depressed and downright disturbed.

(By the way, I predict the lower number.)
As of today here in Texas, though, most restaurants can go back to 75% capacity – up from the 50% capacity they had been rolled back to almost three months ago.

Very few restaurants have footprints massive enough to maintain mandated table distances and still be able to go to 75% capacity.

But announcing this will function as a fantastic psychological boost to guests and will help fill up the seats we do have.
Cash Flow Is the New Profit
All your working life you have been drilled into the habit of thinking about a different number – your budgeted profit – and hitting (or exceeding) and building on that from year to year.

Today very few restaurants are making a profit.

One of the uncountable changes you have had to make in the past six months? Figuring out how to evaluate how you're doing at this confusing time.

The best operators flipped to understanding cash flow and balance sheets in a critical new way.

Cash flow became the most important metric we have now.

I encourage all of my clients to understand how closely they approach cash flow neutral for each accounting period.

Being cash flow neutral lets you carry on through the long life of this crisis, and puts you in a position to dominate once this crisis is behind us – whenever that occurs.

You may need to include a contribution from your savings, lines of credit, PPP, or EIDL money to reach cash flow neutral.
Why I Tell You This Now
You must know your burn rate, how to finance that, and how long you'll have to do so.

Knowing how close to cash flow neutral you operate will also inspire (or, frankly, even frighten) you in a good way into doing the little things that give you the opportunity to add to your revenue here or there.

A 5% here and a 5% there will add up to real money, and close that cash-flow gap.
Run the Plays in the Playbook
After six months we have the playbook. So run these plays.
Exploit all your options for additional patio seating – your guests are clamoring for them.
Refine your to-go and delivery process to make the technology experience (and pick-up experience) for your guests appear smooth, easy, efficient, and super safe.
Re-tool your menu to add more of the comfort foods people want now, and eliminate weak sellers to save money and reduce complexity in the kitchen.
Keep talking to your landlords about rent reductions, deferrals, and abatements.
Evaluate the commitment you made back in the spring to pay off old payables with your broadliner. Is it still affordable?
In Texas, partner with a bar that needs food service in order to open up and qualify as a restaurant.
Operators who continually take small steps to boost revenue and cash flow will end up being the winners when this mess is over.

Over to you. What steps show innovation and adjustment to increase revenue in small amounts?