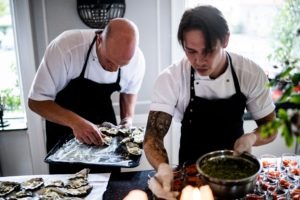 You don't win an NBA championship without superstars.

You don't expect a movie to open strong and gross $500 million or more without the most popular actors.

And you won't ever own the best restaurant company without a few superstars of your own.

Only the best operators, however, stop and think about how much of a difference a super leader makes, and how they can get that level of talent to be part of their company.

With this select group, you look them in in the eye as you smile – like I do with my clients' top people – and feel the true privilege of working with them.

The ones where you say: "Wow, you are one of the most talented people I have seen in your position in my career – because of your commitment, treatment of people, and the influence you have around this company and with everything you do."

At this point in my career, after almost three decades of consulting and four decades in the industry, people take notice when I say that about someone.

Pop Quiz: Which people in your organization can you say these words to?
 
What Do Superstars Have in Common?

Here are three examples set by people my clients and I have hired:
The General Manager who moves from store to store and, every time they do, their new unit experiences 10% revenue growth.
The Operations Director who took on restaurants that seemed to be performing well, and then increased profits by two or three points – an increase of 20%, 25%, or more.
The catering salesperson who routinely outsells their peers by 200% or 300%.
All three of these superstars have two things in common.

First, compared to most people in their position, they produce hundreds of thousands of dollars more in additional annual profit for their companies.

Second, their behavior is an incredible model for others who watch them.

Either You Have Them or You Don't

If you have these people in your organization, celebrate and then do what my clients do:
Let them know how you feel about them.
Give them tons of credit for their achievements (even more than you would regularly).
Create a compensation plan for them that acknowledges their talent.
Understand what truly motivates them.
Always talk about their future – and your future.
If you read this and can't come up with any names that fit the description, you'll need to add them to your team.

So process that empty feeling and next focus on
How to attract or develop superstars
How you can locate them
Recruit them
Enroll them
Retain them
Superstars propel your growth and profit, and make your life easier. If you want to have the company of your dreams, you must have superstars on your team.

Over to you. What steps will you take to make sure you succeed with superstars of your own?