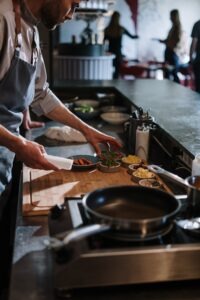 Your vaccinated guests feel safe, and your unvaccinated guests feel bulletproof.

Sales remain strong, and top operators prepare for that to continue, as well as for an uptick in to-go, delivery, and curbside.

I sat in one of my clients' restaurants the other day, looking at the beautiful partitions between the booths with their tastefully painted frames, thinking, "A few weeks ago I would be talking about taking those down. Now I'm glad we left them up."

Why? They make people feel better.
What About Your Employees?

Some employees may feel safe or bulletproof, but others lose comfort as they read the news on their phones about daily COVID-19 cases increasing four-fold or hear deep emotional skepticism about their career choice from their friends and families.

All in the middle of a GOAT workforce shortage – at our beginning of understanding (and the pursuit of making) seismic changes to how our industry works with the people that make things go every day.

If you don't think your workforce is watching how you handle this new wave of cases, you're so wrong.  

And, if you don't believe now is the time to change the way you think, consider an article in the New York Times: "Rookie Bankers Sour on Wall Street's Pitch of Big Pay and Long Hours."

Investment banks have a hard time finding young people who will sign up for 90-hour weeks at $150,000 annually and the potential for millions.

The banks have to offer $20,000 "lifestyle bonuses" on top of that salary or guarantee Saturdays off to get young people to buy-in.

One candidate said, "I think a lot of people rediscovered the importance of mental health."

So what can you do to make your employees feel safer?
Continue (or revive) your internal safety protocols in a very public way.
Ask the unvaccinated to go back to wearing masks, or if you are in an area of substantial of high transmission – all employees to strap on those masks.
Religiously administer pre-shift health screens.
Offer PTO and flexible scheduling for employees who choose to get vaccinated.
Listen to concerns in a formal dialogue that starts FOH and BOH and trickles up to ownership. 

Conscious Employers Adapt and Learn

Learn to confront issues head-on at a time when avoidance remains the biggest risk in a changing world.

Over to you. How will you treat the concerns of your people during another wave of COVID? How will you adopt and maintain new habits to run a successful restaurant business in a changing world?