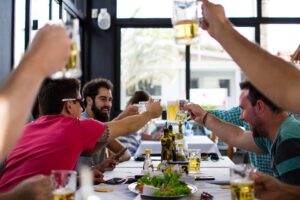 Remember your former long-time guests? The ones you have not seen since March? Think of all their names and faces now.

While they may seem like just a memory at this point, they're more than that – they represent your life's work…and your future profit.

So surprise them; get in touch with them to revive those lapsed relationships.

When this crisis is over, your long-standing customer relationships will make you thrive.

Relationships are hard (though not impossible) to maintain under these conditions.

After all, customers who don't trust the safety you work so hard to provide haven't seen your people's faces – even from behind a mask-  for months and months.

And those people who only order to go – or, even worse, only order through third-party delivery services – they are essentially strangers now.

To-go and delivery guests still support you and enjoy menu items they love.

Their experience has turned into at best an anonymous masked curbside handoff rather than a high-touch connection

And that's pretty much no real relationship at all.

Reach Out to the "Lost" Guest

Your guests root for you to survive like they root for the hometown team.

They sincerely want you to be there when they need you.

To survive, stabilize, and dominate, do everything you can now to protect these lost relationships to ensure you remain their first choice and top of mind when this mess is over.   

The restaurant companies who work on this now will beat the market and emerge from the crisis more quickly and profitably.

Just doing this now will bring some of these guests in sooner.

Like one of my clients told me last week: "Matthew, you are always thinking three steps ahead."

Three Ways to Engage with the "Lost" Guest
Email blast: The message, "We miss you," "We think about you," can also include a link to a survey asking what will make them ready to come back – or to a form where they can register as "Friends of…" to keep them connected.
Social media: This works along the same lines; make posts interactive, capture connections, and dedicate messages solely to the lost guest.
Telephone: "Hi, I'm Denise, General Manager at ______. We haven't seen you during the crisis and want to reach out and know that you are OK." You can use your to-go/curbside phone numbers and, if you run your restaurant right, your servers, bartenders, and managers know lapsed regulars well enough to be able to find them and call.
I will guarantee you that, when the hesitant feel the exhilarating freedom to return, people you contact now will remember for the rest of their lives that you took the time to reach out to them during the crisis.

Then, when they have that first restaurant meal since the crisis started (like a friend of mine did last week when we dined on the patio at one of Dallas's top restaurants – wine, three outstanding courses, spirited conversation, great service, perfect weather) they will not only feel joy, but will also have that joyous experience permanently stamped in their memory.  

Control your future.

Boost your revenue and profits out of proportion to the market when it comes back.

Over to you. How will people in your organization rev this up, reach out, and stay in touch with your lost guests?