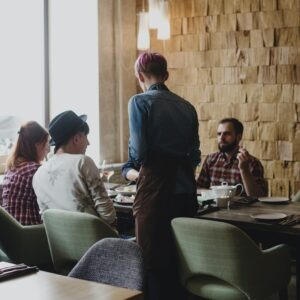 Welcome to the re-beginning.

Last March, we felt shock as we walked through empty dining rooms, establishing tactics and strategy as we went along.

In the background we heard health authorities warn us there would be a spike "next winter" – but we sort of just filed that in the back of our minds, distracted by more critical issues.

Not knowing much we figured (wrongly) that we would be back up and running by the end of the year and this winter COVID spike thing would have been just a temporary setback.  

I never thought I would start my day by visiting the Dallas Independent School District COVID tracker to check yesterday's metrics on new cases at my daughter's school.

But that morning habit has now become ingrained, like many other things in our restaurants we never thought about before.

A Lot Has Changed

And that spike the authorities talked about…we're smack in the middle of it now.

With worse metrics in terms of cases, hospitalizations, and death than the first phase of the pandemic.

As we go into the holiday season, we see COVID cases rise around the country and around the world, and we see changing attitudes amongst our guests – and new restrictions on our businesses.

Stop for a moment and look back at the past nine months.  

As you prepare to respond to changing guest behavior, review what you did well at the beginning of the crisis – and consider what you could have done better.

Update your playbook for how you handled the scariest days, knowing that horror movie-level days will continue the next few months.

Be ready to pivot to what your guests want – especially if they want (or are only offered) more to-go, delivery, and curbside, and less dining room.

Anticipate changes in scheduling, marketing, menu items, and production.

Don't Make this Big Mistake

The biggest mistake you can make is to just keep going like today's news is a continuation of what you have been dealing with.

Stop, pull your leadership team together, and adjust.

This holiday season won't be like your typical one that's a flurry of activity that suddenly ends on New Year's Day.

We have a three-month window of current conditions.

This "spike" or "second or third wave" looks like the last big hurdle before the other small hurdles coming as we slowly recover next year.

Approach it consciously so you can survive, stabilize, and dominate.

Over to you. When will you assemble your leadership team to prepare, innovate, and respond, and create the best outcome possible in a difficult winter?