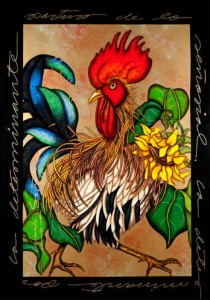 People prefer to buy from people they like.
We like to know a little history about a business.  We like to think we are doing business in someplace special, with special people.  The most successful businesses have great stories to tell and these stories serve to engage their associates and customers in what makes their business special.
There's this restaurant that has a great story to tell about its commitment to quality and specialness in their specific segment.  However, they have not invested the resources required to really tell that story.  So as competitors have told their own stories,  this restaurant has fallen behind and guest counts have declined.
On the other hand, I know of a restaurant that spent plenty to tell a story about its corporation and price point.  Frankly, nobody was very interested.  They had a much better, more personal story they could have told that would have been quite compelling.  They are currently under performing and are now working on a way to tell the more interesting story.
All this came to mind when Stephen R. Thompson of the Dallas Business Journal called me to comment on Mi Cocina's expansion from Dallas / Fort Worth to Atlanta and Washington, D.C.  for his story "Mi Cocina Dips Its Chips in Eastern States."  Mi Cocina is the biggest restaurant success story in Dallas for the last 10-15 years.
In 2009, I told D Magazine that Mi Cocina had the potential to be the El Fenix or El Chico of the 21st Century.  Considering those two brands have been around for a combined 166 years, that's a pretty big deal.
What a great story!  Mico Rodriguez, scion of the Mia's Tex-Mex family, left to open his own Tex-Mex restaurant with upscale cues. With the opening of its second store in Dallas' tony Highland Park Village, the story took a big leap forward.  Mico's late brother, Paul, who stayed behind at Mia's used to tease, "We have better food, but he has better furniture."  There was a lot more drama later, detailed in that D Magazine article, but that's a story of another kind which, happily for Mi Cocina, has not attached to the brand.  The happy ending?  Mi Cocina now boasts 20 units.
So what does this mean in Atlanta and Washington, D.C.?   Well, it means real estate people are offering locations.  But it might not mean much to the consumer.  The new locations will succeed or fail based on the quality of their operations.
Which brings me back to those two restaurants I mentioned before.  It reminds us all that you can promote your business on features and benefits, but people relate more to stories.  If you doubt that the telling of your story is important, you are wrong.  The best operators know how to build that story, circulate and promote that story, invest in that story and use it to their competitive advantage.
What is your story?