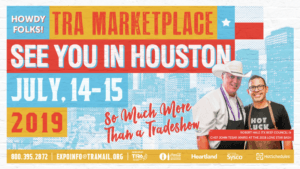 In the past I have proven why culture provides 100% of your profits. That's a lot.

I constantly work with my clients – successful owners of independent restaurant companies – to define their culture in a permanent way.

This lets them direct the behavior of their people (i.e., everybody) who serve guests and the people who supervise their team.

Professionals operate restaurants having their culture already handled.

Amateurs have not yet figured culture out.
 
Come to My Free Culture Workshop

Do you wonder if your culture hits your target – or if you even have a culture?

Do you know how to make it stick?

Texas Restaurant Association has asked me to lead The Ultimate Restaurant Culture Workshop, a workshop that's free to attendees at this year's TRA Marketplace – the trifecta of trade show, conference, and party.

I take the Big Bend Big Ideas Stage at the George R. Brown Convention Center in Houston on Monday, July 15, at 10:30 AM.

Restaurant Operators, to attend both days of the event for FREE, use my speaker discount code SURRENDER19 when registering to take advantage of this exceptional offer.

Learn How to Build a Healthy Culture—Then Put It to Work

You will walk out of this session with a documented, defined culture that will:
Strengthen and solidify the relationships between your guests and employees
Increase sales and profits
Set your restaurants apart from the competition
We'll start by working with my four-step process to create a company culture from scratch.

I will show you how to take the critical step of comparing your actual culture to the one you aspire to, so you can see how to adjust to make it real.

I will share a simple way to make sure your culture sticks and that your employees pay attention to it and live it every day – an impactful secret I always share with my clients.

When you return home from Houston, you will arrive ready to take action like the hero you yearn to be.

Bring your culture stories and questions!

Oh Yeah, There's a Party, Too


Lone Star Bash is on Sunday, July 14, at Minute Maid Park – home of the Houston Astros.

There will be a live gig by Kyle Park, cocktails, cold beer, and great wine – and more chef-prepared bites than you have room for.

The chefs who prepared the bites will be there, too.

This benefits the Texas Restaurant Association Education Foundation, where I serve as a trustee, executive committee member, and chairman of the restaurant education committee.

TRAEF is best known for Texas Pro Start, a workforce development high school culinary and management program with 25,000 participants in 250 high schools around the state.

I figure that makes it the biggest one in the world.

The Texas Pro Start program just created not one but two national champions – Texas won both the National Pro Start Invitational Culinary and Restaurant Management programs this year.

Wow! Something to celebrate.

See you in Houston.