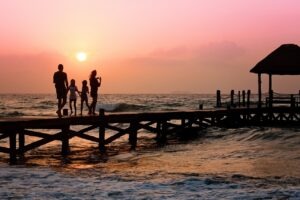 I recently talked to a restaurateur who had just taken his first plane trip in 15 months – and he told me incredulously that it felt "almost like normal."

I'm taking my first one in a few weeks.

Last year, the year of oddness and panic, a lot of summer vacations were canceled.

Or substituted with a vacation that was different from what they'd envisioned when the year started.

Flying to the beach got 86ed – and driving to the campsite took its place.

Summer vacations are important. They give us great memories that update annually.

And wasn't that one of the reasons you wanted to own your own independent, successful multi-unit restaurant company? To live a free and flexible life?
How to Build Freedom Into Your Business
What is Different This Year

This year, a year of resumption and redemption, top restaurateurs think about manager and employee vacations as much as their own.

Your people endured some kind of – well, I am trying to think of a synonym for "plague," but each one just brings back reality more than I want now that I am in vacation mode.

So many of us still feel the cumulative strain of the past 15 months. Every day.

Meanwhile, as conditions become better and positive again, your team runs busy, short-staffed shifts, and deals with a new brand of stress.
 
Time to Spring into Action

One of my clients, who has a side business of vacation rental cabins, pulled out the reservation book and gifted every member of their management team a summer vacation.

That made for some of the most shocking-in-a-good-way weekly operations meetings ever, as if Oprah had left a vacation voucher under the chairs.

Another added an extra week of vacation for a senior GM who had earned a significant raise.

About to re- married, this GM has concerns that their restaurant industry schedule may not be relationship friendly.

That gesture helped them conquer those worries.

We have all heard about the owner of eight Uno units in Maryland and Virginia shutting them down for "Wellness Wednesday" to give staff a day "to recharge and get their bearings."

We can smile and talk all we want about how culture remains the most important thing in our restaurant company – the thing that builds our brands and inspires guests and employees.

But you know what they say about talk. It's cheap.

Giving people a day off with pay, an extra vacation week, or a vacation rental is not cheap.

But it's more valuable than an NFT.

When you have the right people, they deserve it.

Over to you. What will you do to make sure your managers and staff (and you) get a much-needed summer break in 2021?