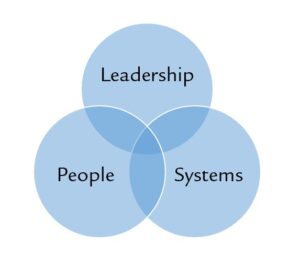 Do your guests smile, feel happy, enjoy their meals, and tell their friends about that?

Do your financial statements appear predictable and healthy – making you proud?

Does your culture deeply permeate your restaurants every unit, every shift, every table, every time?

Do your people demonstrably improve – doing things today that they couldn't do last year?

These four critical questions make up 98% of any great restaurant owner's brain space.

Let me make things simple for you.


Look for Answers Here
Once you answer the above questions – and opportunity for improvement becomes evident – start looking for improvement in three places:
The Mirror: Your company's strengths tend to be your strengths; its weaknesses tend to be your weaknesses. Your company reflects its owner. Ultimate success comes from balancing perspective.

People: If you do not have capable people in place – who achieve the results you want and expect – stop reading this, start developing them, or move on and hire others.

Systems: The restaurant industry has best practices. We have figured everything out. If your group lacks state-of-the-art systems daily, weekly, and on a periodic basis, watch the competition pass you by.

Two Out of Three Equals Bad
If you have:
Right leadership, right people, but lack systems: Your people appear inactive and ignorant. They'll run shifts every day, but they'll make no progress on the analysis and action required to truly run a business.

Right leadership, right systems, but the wrong people: The machine that makes things work sits there, untouched. Maybe your people are untrained, or maybe just plain incapable. You must make a distinction between the two. For your people who can grow, put energy into them. For those with no upside, move on (at a time of your choosing).

Right systems, right people, but weak leadership: Your people will have no direction – like they're on a road trip, their GPS has a glitch and they can't buy a map because no one prints maps anymore.

Choose Your Focus
Using this thinking directs the way I achieve results when I work with my clients – successful people who want to be even more successful:
Developing leadership
Educating people and bringing in new people when we need them
Implementing systems – this is actually the easy part because they have already been figured out
Over to you. How do you rank your organizational capability and effectiveness across leadership, people, and systems? What does that tell you about what you will work on today?