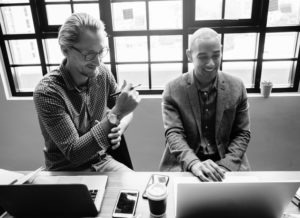 Most of my clients guide teams in their multi-unit organizations through their next stage of growth, management development, concept development, branding, or culture.
However, a few still are hands-on operators of their own restaurants.
When that changes – when we improve everything by hiring the right director of operations  and I educate this new owner/operator duo about how to best work with each other – I experience the satisfaction of making a significant contribution to two people's lives.
Congratulations, You Bought Yourself a Job!
What do these restaurateurs have in common?
They are hugely successful.
They are making more money than they ever imagined possible.
They are a little incredulous about their celebrity.
They have a ton of opportunity, but no time to take advantage of it.
When their managers need something, their phone blows up with five texts.   
They deal with the vendors, they run errands, and they hire managers.
They want to take more vacations – and spend more time thinking about their next concept, location, or personal adventure – but being in the middle of operations makes them feel stuck.
Have the Best Quality of Life Ever
My friend David Cea, an industry leader in Lubbock, TX, made the transition from running things himself to working through an operations director.
He says, "I hired a bad-ass director of operations. He's paid for himself. My sales, numbers, and profits are the best they have ever been. I have the best quality of life I have ever had. I got the idea for a DOO from a consultant friend and he was right."
I'm glad David had such a great outcome from my advice.
One of my clients credits the hiring of the operations director with a growth spurt that took their concept from just a restaurant to a true brand that dominates its segment. Cash flow and net worth increased 500%.
He tells me, "I never would have done it without you."
Three Most Important Criteria to Look For  
A history in a company bigger than yours. You want your company to import that level of knowledge and experience.
At least one successful stop – working with an independent operator – because collaborating with an entrepreneur is 10 worlds away from working for a company.
True respect and admiration for what you have accomplished. This is my "No Bulldozers" rule. The last thing you want? An attitude of, "These restaurants aren't so great; I can make them into something."
Making the giant move from running things yourself to hiring an operations director is like upgrading from coach to first class on an intercontinental flight – except it pays for itself and lasts a lot longer.   
Over to you. Are you at that stage in your career where it is smart to act on this?