Last week, I had the opportunity to dine at Café Des Artistes in Puerto Vallarta, Mexico, the flagship of Chef Thierry Blouet's empire. I didn't realize it would also be an opportunity to witness exemplary teamwork.
Chef Blouet's award-winning restaurant offers a spirited competition for high standards between food and atmosphere, with service not far behind. He is indisputably one of the elite chefs of his country, but equally impressive is "the garden" he has created. The dining space is perched on a steeply tiered outdoor terrace in the interior of a city block. It is a courtyard enclosed by the walls of the neighboring buildings, and boasts tropical landscaping, great lighting and sculpture.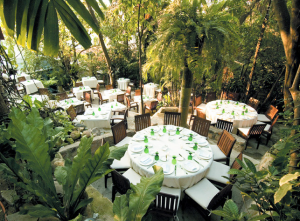 After the meal, we ordered the Chocolate Fondant. According to the English translation on the menu, the dessert specialty is served with chocolate crumble, vanilla ice cream, wafers, and amaranth.
After our first two bites, a waiter who had not been serving us approached our table tentatively and smiled. We responded with friendly body language, so he stepped forward and pointed to the two wafers, one red hued and the other vanilla-beige. In a friendly, but tentative voice, he pointed to the wafers and said, "Excuse me. Can you tell me how to pronounce this in English?"
We explained the pronunciation and he replied, "In Spanish, it is 'Hostia,'" the word for the white communion wafer used in the Catholic Church. Knowing how chefs have a sense of humor, I imagine it was no accident that this particular wafer was used in the Chocolate Fondant. I've since learned that this word can also possibly be a rude slang term, so the waiters were certainly hoping to find a more polite word.
The inquiring fellow retreated to a group of waiters who were still on duty but had little to do at that late hour. Most restaurateurs would have cut the wait staff and sent them home by then. The group was standing in the multi-leveled dining space not far from our table. Like the menus they present, these service professionals are all bilingual. And, like the professionals they are, they were working on their language skills. Gradually, we heard a chorus of waiters, practicing their new English word in a scene worthy of a Monty Python skit.
"Waff-er!"
"Way-fear!"
"Why-fer!"
and a few triumphant "Way-fers!"
What a great example of teamwork! One brave soul had approached our table and carried the answer back to the whole team, then lead an impromptu pronunciation course.
And, what a sign of health at Café Des Artistes! Either by design or by accident, there was true teamwork in that dining room. Each person cared that their coworkers performed up to the standard. They understood one of the most important lessons I have observed in business and in life:
We are all in this together.
Training and hiring practices are important in any business. Fostering true teamwork and support delivers better results than an "every man for himself" message.
It is critical to review whether an atmosphere of teamwork is prevailing in your business. I know of a company who recently separated from one of their highest performers because he destroyed teamwork. It was a very tough, but courageous decision. And it was the right decision.