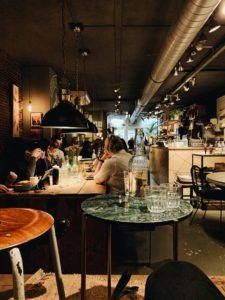 What will the rules be when our dining rooms, partially at first, open?
We don't know.
But we've got to be ready.
Whoa! Looks like an exercise in planning from business school.
Correct.
This pandemic schools you.   
Public Health Comes First
I watch California and Washington state – two of the first states that sheltered in place.
They will likely come out first, and will be models about how restaurants re-open dining rooms.
California Governor Gavin Newsom anticipates usage of half of dining rooms at first, requiring servers to wear masks and gloves, with guests ordering from single-use disposable menus.
I expect similar rules will govern airline use, with no one allowed to sit in a middle seat.
Airlines will determine whether they can make money flying planes with such reduced capacity.
But that middle seat represents the loss of only a third of their capacity – not half, like restaurants will lose!
What makes sense for public health does not necessarily equate to a business model that works at half-yield for your dining room.
Two Things You Must Figure Out Now
1. Does It Make Money?
Start thinking now about whether you can actually operate your business at 50% of your seating or 6-foot distancing.
Calculate your staffing needs, the revenue you can expect, and what you need to at least break even.
How much rent can you afford if you use only half of the building?
How much labor cost reduction will a menu change yield?
Pull your managers and office team together in the spirit of running different scenarios.
Understand what will work for you and what will not.
2.  Will I Earn Back the Trust of Changed Guests?
I have been running for decades, but never imagined part of my runs could involve running away from people who looked like they might leave their droplets too close to me.
Running still gives me the endorphins, but the Zen-like nature of a run? Kind of gone. It's changed for me.
When you welcome your guests back, you will welcome back people who have been changed – rattled by pandemic.
So, if they're going to be comfortable with your brand:
Make Space: The people huddling around your host waiting for a table? Not anymore. That and other choke points in your restaurants – where people come together – must be adjusted. One of my clients and I are working on removing tables near the host stand to create much bigger and open space, for instance.  Screening, like you see in an office, can work between tables.
Become Touchless: Become touchless for anything that can be touchless. If you know the joy of bartering meals for toilet paper with your neighbors now, imagine what it will be like in a few weeks to source touchless fixtures for your bathrooms or doors. Use technology to stop handling guests' credit cards. Plexiglass can also protect guests – and your employees – like it now protects cashiers at your local grocery store.
Put foot pulls on doors, HEPA filters in your HVAC units and UV hand washing stations where you can.
We Don't Have Time To Be Bored
Your friends may be bored at home, complaining – as they shout at you across social distance from their front yards – that they have "finished Netflix" having watched all their favorite movies, while starting to resent their kids.
But there is no room for boredom in the restaurant business – just like there is no crying in baseball.   
The best operators know about the value of readiness when the curtain rises again: about being informed, prepared, and confident.
This path leads to, one day, reclaiming 100% of seats and dominating your segment. That is what I wish for you.   
If you want to talk about how the COVID-19 virus is impacting your business, please schedule a free call with me and I will help you.