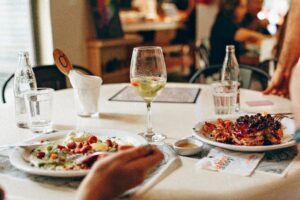 During the pandemic, the pendulum swung in the battle between independent and chain restaurants – now favoring chains.

Over time, supremacy has switched from one to the other – and back again.

Like between Federer and Nadal

Republicans and Democrats

The Avengers and Thanos

At the beginning of this crisis, chain restaurant companies were better positioned to survive – with more resources, more money, better technology, and stronger real estate positions.

Last summer, a Bank of America study found that spending recovery rate at small chains and independent restaurants lagged large chains by about 20%.

However, before you panic, liquidate your holdings, and buy chain restaurant stock, realize that the pendulum will swing back.

It always has. It's inevitable.

As a successful owner of an independent multi-unit restaurant company, it is critical that you understand this as you plan for your business to dominate post-pandemic.

Remember: Before the pandemic, the pace of independent restaurant growth doubled chain growth – and every chain restaurant executive in America desperately wanted to understand what you know about connecting with guests, employees, and the communities you serve. 
 
Act More Like a Chain – But Not Too Much

To make the most of this competition, act a little more like a chain (without losing your soul).
People. Corporate restaurant groups have downsized and laid off enough qualified people to fill an arena.  Hire them and import the operational knowledge they bring, while making sure they are able to adopt your culture.
Tech. Corporate restaurant groups won the technology race. While they can GPS track a guest's arrival, you have only recently learned to take a contactless order. You must have a technology enhancement plan for all aspects of our business – for the guest, in the units, and in your office.
Real Estate. After the beating landlords have taken, corporate guarantees look even better to them than ever. In the gold rush for second-generation space, you must make the case for why your brand builds the value of your landlord's assets. Also tell the story of how the challenge of COVID-19 has increased your staying power.
Leverage Relationships
The one area where independents always beat corporate restaurants? Relationships.

I guarantee you that the owners of chain restaurants cannot spend their days building real relationships with guests, employees, and their communities – any more than Mrs. Butterworth or Lorna Doone work the aisles of your local grocery store.

You and your management team must be closer to your guests and employees than ever.

Take advantage of that and practice it every day.

Independent restaurant groups adopting some chain techniques will be much more successful than those that ignore this lesson as the pandemic ends.

Over to you. What action will you take to compensate for the superior position chains have over independent restaurants as we plan for the end of the pandemic and a return to historical sales levels…or better?