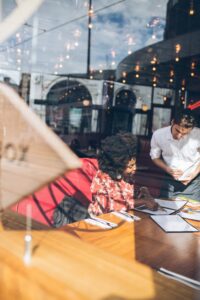 Sure, listen to your family and friends, employees, and co-owners – they love to speak up.

Direct, honest communication and encouragement inspires all of us, especially when it comes from people who have nothing but our best interests truly at heart.

But nothing equals advice from experienced smart people who just want you to do well, and who speak truth to power without a personal agenda.
  
Who Advises You?

Imagine you're a high school student.

For a school project, you and some classmates create a restaurant concept, business plan, layout, menu, SWOT analysis, and marketing tactics.

So you enter a statewide competition for a chance to go all the way to a national competition.

After you present your concept, you sit in a college classroom and get feedback on your plans and presentation style from a team of judges who decide who goes to nationals.

Who is there? Well, I am, for one.

Plus owners of two different independent restaurant groups, the food-and-beverage operator of one of the top stadiums in the world, a consultant who works with a lot of startups, the owner of a restaurant marketing advertising agency, and a top representative of a national company who checks the numbers.

That would be like me having a long lunch with Colonel Sanders and Norman Brinker.

(I did work with the late Jim Hasslocher of Frontier Enterprises and he knew Colonel Sanders, and Norman Brinker used to live on my street way before I moved there – but that's about as close as I came).
Welcome to TX ProStart

This just happened, like it does every year, at the Texas State Finals of the NRAEF ProStart Invitational, in an annual event sponsored by the Texas Restaurant Foundation where I am a past trustee.  

The experience of high school students hearing custom-crafted positive encouragement and constructive advice from top people in the industry always amazes.

Potentially life-changing information reaches teenagers who – just think about this – have never been in a single business meeting before, let alone been advised by industry experts.

You should see their elated faces!  

I can tell one of those kids something about their greatness and their potential and they look like they will carry that with them forever.  

So aside from you getting involved in your local or statewide ProStart program, what else can be learned here?

We excel when we take advantage of top people validating, improving, coaching, and advising us.  

If you know me well, you know I have the top people in the world advising me on how to improve the condition of my clients.
That has been a big part of my success.

Over to you. Which top people advise you? What results do you create from following their advice that would never happen otherwise?