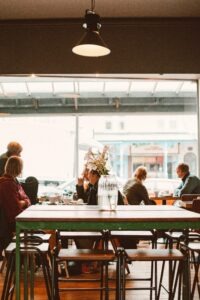 The latest release in horror movies our industry is part of – our three-pronged labor shortage disaster.
When I speak with operators, our first words are usually the zeitgeist pleasantries about Pfizer, Moderna, or J&J, and our next words are always about staffing our restaurants.
We're starting to breathe out, having just evaded the COVID monster, revenue skyrockets…and here comes Labor Shortage.
We used to be sure that, after all the bad things the pandemic has done to the world and our industry, it would at least do one good thing for our industry: Make more workers available.
We were so wrong.
Three Prongs to the Labor Shortage
Here are three issues the labor shortage is introducing to restaurants now – and some solutions.
Recruiting and Hiring
Every restaurant has a "now hiring" sign up these days, and every week those signs appear to become larger. As a result, you must separate yourself from the pack.
How? By leveraging your culture, scheduling flexibility, and the rates of pay you can afford to stretch thanks to a menu price increase. Understand the necessity to develop people you might not have hired under different conditions (they may not come ready-made when hired), and also up the ante on any referral program.
Retention
The surest way to staff your restaurant? Keep the people you already have.
Don't put yourself in a position to feel those tears running down your cheeks as you watch them walk out the front door and go to work for the restaurant across the street.
If people need a few more hours, give them the hours. If they need more love, caring, acknowledgment, and attention, make time every day to do that. Since reminding them why they smartly chose to work in your restaurant helps, reflect it back to them constantly.
Guest Relations
When frustrated guests wait for a table at your newly-expanded 100% capacity, they see empty tables in your dining room you cannot staff. Clearly, the fault lies with incompetent management.
Do not engage in a discussion about the economic policy of the Federal Reserve and the size of unemployment checks generated by the American Rescue Plan.
Your guests visit you to get a vacation from all that.
Instead, explain that you will only be able to seat them when you can serve them up to the standard they expect – and you would not want to compromise that.
Then offer them a gift card to use toward their next visit, at a slower time, when you have staff to take care of them.
We all went to economics class and understand supply and demand.
Expect this topic to remain on your docket for a long time, so attack these three prongs and keep improving your situation during our all-encompassing labor shortage.
Over to you: Your most valuable strategy in coping with the labor shortage?