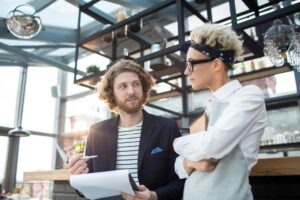 Qualifying for a potential PPP2 loan is critical to survival planning.

Congress is working with a formula where  PPP2 loans, if they happen, reward people who could not (or did not) open after the shelter-in-place orders – or had central business district or tourist locations.

Those restaurants need the help.

On the flip side, qualifying for these loans penalizes many of my clients who have worked hard trying to keep their businesses alive.

What is being discussed is a 35% revenue reduction for Q1 or Q2 2020 vs. Q1 or Q2 2019 as a threshold for PPP2.

That is better than the 50% originally discussed, but still way short of being a help to many.

Companies have stretched their creativity and capability to cobble together revenue, often through third-party delivery services – yielding revenue that looks comparatively good.

When they add those massive third-party fees to already-large COVID-related operating costs, however, their margins look shot.

They lose money every week.

Right now, most of my clients feel grateful to operate at around 80% of historical revenue, with a third to a half of that from to-go and delivery.

Some are enjoying 100% of what they used to do; some are lower, at 65-70%.
Know Where You Stand
What is your decline between Q2 2019 and Q2 2020?

If you don't know the answer off the top of your head, put down your device and find out.

Determine what you may or may not qualify for.

(Looking at Q1 won't rescue you unless home is near Seattle of New York – the pandemic hit flyover country at the end of Q1).
Meanwhile, Get to Work
Once you know whether you will qualify at 35% revenue reduction, knowing that PPP2 happening is something you cannot control, wake up the next morning and start working all over again to produce revenue out of what you do control.
Reduce your reliance on third-party delivery companies by moving customer data and cash to your own to-go operations.
Maximize your outdoor dining space by benefitting from the flexibility of your local government.
Trim your menu down and limit the items and ingredients that don't move.
Never stop developing to-go/delivery menu items and programs, remembering that now comfort wins over creativity. 
Expand your reach by considering your capability to provide and market menu items that are radically different from your core items.
The best operators – the ones who will survive this crisis and dominate in the resulting market – act relentlessly to do everything possible to make it through this mess.

One day you'll run into them, sitting in a bar (when bars are busy again), telling pandemic war stories, having won that war.

You won't be having that drink today.  

Do the hard work to keep your business surviving, stabilizing, and dominating.

Over to you. What are the new things you and your team are doing to build revenue now?