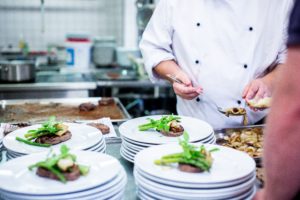 Here is what I am telling my clients now about surviving this crisis and keeping people working when it passes. 

If you operate in an area where you can only offer to-go and delivery, take a short period of 10 days (over two weekends) to determine whether you can generate enough revenue to keep some people working or contribute any positive operational cash flow. 

However, if you are in one of those rare communities where you are still allowed to have limited dining room usage, create a forecast and figure out if you can generate positive operational cash flow and keep people working.

If you've shut down, keep reading – the rest of this applies to everyone. 
 
Two Things You Need to Know

Businesses that survive will thrive and prosper – recession or not – in a market with fewer seats.

To be one of those, however, you will need to know two things about how your finances stand: 
Negative cash flow for each unit under current conditions. If you don't have the internal capability to figure that out, contact your CPA immediately and ask them to put everything down and create a break-even analysis by unit. Then you will know how much you must reduce expenses, defer payments, or deplete resources. 
 
Your cash position. Conserve cash so your business will survive this interruption. Do not let cash-flow problems creep up on you. Eliminate surprises – you've already had enough of them in the past week. 
There will be government backed loans available.

We don't know how long they will take to fund.

By now I am certain you have already cut discretionary expenses, like contract cleaning and advertising contracts, but you should also: 
Understand your bank balance. 
Know what your A/P looks like. 
Consider using an existing line of credit or additional resources.
Figure out additional resources you can create.
That cash reserve or line of credit you've sat on for years – built for ultra-rare times like these. Now may be the time.

Stop paying your biggest bills. Start a dialog now with your major vendors, your lender, and your landlord about the facts on the ground right now. 

For your landlord and lenders, determine how flexible they may be in abating or deferring payments, since sales are now reduced due to civil authority action that prevents you from using the premises for the purpose you intended. 

Just find out how flexible they are; don't violate the terms of your contracts. 
 
For your major vendors, don't pay them until you have established how flexible they may be in extending terms. 

That is not a typo: extended terms. 

We are all in this together: Deferring or delaying payments injects significant cash into your business and ensures your ability to buy from them when this ends. 

I'm not saying you will never pay these bills – just advising you to take a strong negotiating position and understand your options. 

Protect your small vendors.

Take care of that farm-to-table farmer. 

People have long memories. 
 
How to Survive

Keep focusing on putting the word out to your guests that your restaurants function as a sanctuary in this storm – whether you bring food to them in the parking lot, deliver, or welcome them in whatever part of your dining room may still be open. 

Know your cash flow and cash position – the things you can change, and the things you can't. 

We are going to get through this together.

If you want to talk about how the COVID-19 virus is impacting your business, please schedule a free call with me and I will help you.