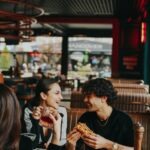 When things run smoothly and predictably (remember that?), it's easy to focus on doing things the right way. 

During a crisis, though – even as things become better toward the end – not so much.

But, while my clients are focusing on different areas in 2022, they all have one thing in common: the goal of making 2022 their best operating year ever.

To reach that goal, though, each is choosing a different approach:
Build up the corporate team in anticipation of growth in revenue, profit, and units.
Import communications systems that exist in every great restaurant company in America – to give their employees and guests great experiences and create loyalty.
Pivot their organization to build an aspirational culture – knowing that will increase sales and retention as a by-product.
Test and perfect a completely new version of their brand with the potential for record revenue and profits.
Devote the year to process improvement – so their restaurants run efficiently and consistently and profits increase.
Open exciting new units and continue to build out successful territories, to take advantage of the strength of their brand.  
Turn over more responsibility to corporate leaders so owners can disconnect for periods of time when they want to because they have earned the right to do that.
2022 Ground Rules
Sure, you will still be dealing with pandemic-related issues – the ones that history will use to define the year 2021.

And they will continue to occupy your time, after almost two years of dealing with this s%$*.

I invite you to put that mindset behind you and go back to running your business with a long-term look toward the future – the one you want to create.

Remove yourself from the workforce/COVID/supply chain/inflation spiral and have a great year next year whatever happens.  

Start Now
If you have not already identified the most important achievement of your organization in 2022, include your leaders in identifying that, and reduce all those ideas like a great sauce until you know what your team focuses on next year, how they do that, and the specific outcome.

Next, start making plans to zero in immediately in January – set the holy trinity of dates, responsibilities, and accountability.  

People who do this will end 2022 so much more successfully than owners who are still scattered and distracted.  

Which do you want to be?