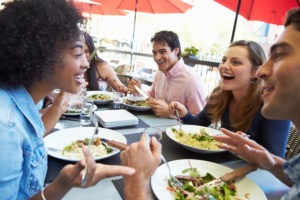 Last week, for the first time in two years, I went to a concert – me and 10,000 of my closest friends.

Until the pandemic, that's something I had been regularly doing my whole life. 

At first, it felt otherworldly and weird.  

And I have to admit that, at the load-in entrance, when I saw the four shiny perfectly lined up 18-wheelers that cart the show around the country, it felt really good. 

Those 18-wheelers have always promised a really good time.
Coming Back to Restaurants
So I can imagine what the people who decided to be absent from restaurants (or, if they work at home, from their favorite restaurants near the office) feel like after two years.

For a lost, hesitant, or cautious guest – who changed dining habits at the beginning of the pandemic and have barely been in a restaurant since – there will never be a time like now.

If they do not like going to restaurants now, they probably never will. 

And how many people will really never want to go to restaurants again?

I keep hearing stories of people's first time going back to a restaurant post-pandemic, and how at first it feels unnerving, but then enjoyable.

I talked about this and how it relates to eatertainment in a recent Kevin Hardy article in FSR Magazine: "Why Eatertainment is Going to Make a Major COVID Comeback." 

 
Bring Guest Count Back
This year, restaurateurs filter out the noise about gas prices and commodity prices and instead focus on guest count. 

A year of beginning to restore guest count to 2019 levels, or replacing them with someone else.  

I notice that, after years of bingeing on menu prices and PPA, smart operators are sobering up and comparing guest count to 2019 levels every week – just like they look at comp sales.

A year ago, guests really started to return.

We were so proud of our forecast of a Q3 recovery.

Then Q2 happened. We saw all those sales figures start to roll in. With higher menu prices. And a higher PPA.
 
The Lost Guest Once Contributed All of Your Profit
When you identify the number of guests you have lost, it may be 10%, 15%, or more.

In the past, that probably meant all your profits.

So what can you do to re-enroll lost guests through marketing, promotions, menu offerings, and hospitality and service improvements?

When you put guest count on a trajectory to historical levels, you make a lot of people happy, and your financials become things of beauty.
Over to you. What does guest count erosion look like at your brands over the past two years, and what action will close that gap.