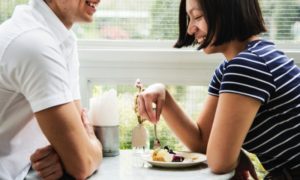 When you look at expenses on your P&L, you are typically making sure numbers are low enough.
On the other hand, when you look at guest comp expense, you ought to make sure it is high enough. If it is not, you are under-utilizing one of your greatest marketing tools.
Experience tells me that most successful owners of multi-unit restaurant companies like you over-control their guest comps to the point where it works against them.
Nothing delights a guest more than something free. We know that people will drive across town for a free dessert or appetizer. That can confuse us. It is not rational. But, to them, it just feels good.
Practice True Hospitality — and Reap the Rewards
Years ago I had the distinct honor of working on a project with the great Chef Walter Kauffman, a dining pioneer and legend in his adopted hometown of Fort Worth, TX, who (if my calculations are right) is about to celebrate his 90th birthday.
Some of my greatest learning comes from the legends I have worked with — from Walter, to G. "Mr. Jim" Hasslocher of Frontier Enterprises fame, to Matt Martinez II of Austin's Matt's El Rancho pedigree. Sadly, the latter two are no longer with us.
Walter gave me the best definition of hospitality I have ever heard. He told me, "It is an exchange: We flatter the guest and, in response, the guest flatters us."
Guests look at the item you just comped and they feel honored, excited, appreciative, and acknowledged. They'll probably talk about it at work tomorrow or at their kids' school function.
They just became an insider.
Four Top Things to Know about This Essential Marketing Tool
What to give away. Identify low-cost items, underperforming items with upside potential, or something that really represents you well.
Who to give it to. Managers and shift leaders should have specific strategies on different types of guests to comp. Nothing in your business should be random.
That it is working. Each time managers comp items, they start a relationship with the guest. Review that in each weekly operations meeting.
What the true cost is. Account for the marketing cost of the comp — not the retail value of the comp — as an expense in your P&L. Do not penalize the kitchen for food cost. And don't let managers be concerned that this will negatively impact their bonus.
Those of us who have been doing this a while have seen most of the marketing tools on which we used to rely become ineffective over time. In contrast, this one is more effective than ever, as people self-define by the dining choices they make and connections to the restaurants they love.
Over to you… How are you going to make your guest comp policy more robust so you enroll new guests and build revenue and guest count?