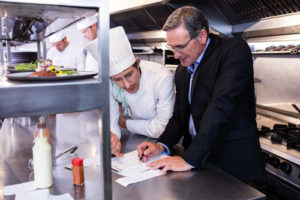 Non-cash adjustment moves the credit card processing cost away from your P&L and onto your guests' credit or debit card – in small increments they do not mind.  

Plastic-wielding guests will see this cost itemized on the guest check, or will see a reduced price if they pay with cash.

On a $45 check, that amount might come out to 90 cents – which really adds up over a whole accounting period.

 
Two Points Right Away

One of my clients told me over a drink (she needed one) about her shock that a recent linen bill had set a record at three times what it had been.

Those two points help offset the off-the-charts costs of running restaurants today, including sky-high commodities (the USDA predicts beef and chicken prices will rise another 12-15% this year), seemingly uncontrolled controllable expenses, and, oh yeah…labor.
 
My Skepticism Evaporated

When my client Ol' South Pancake House came to me ready to start non-cash adjustment, I was skeptical.

I never like to nickel and dime guests, and I feel about the guest experience something similar to how a lion feels about their cubs.

For the launch weekend, with thousands of guests on the way, we stationed the owner at the flagship store's cashier station, and stationed the operations director at the cashier stand of the suburban location.

We wanted to have them right there to smooth over complaints and soothe irate guests, suspicious diners, and those who thought non-cash adjustment looks like a major rip-off.

In the end, though, only one guest even asked for an explanation.

No one complained.

This pattern repeated at all my other clients who have switched to (or tested) non-cash adjustment.

The upshot: I'm not skeptical about it anymore.

 
We Save Millions

In a challenging operating environment, the best people think and act differently.

Four years ago, when one of my client companies tried non-cash adjustment, guests trolled my client into submission.

Now, it seems people accept the cost structure of any business; and QSR, fast casual, and casual guests seem more forgiving.

The proud members of my Restaurant Owners Success Club – an elite group of multi-unit operators I work with – forecast saving millions of dollars annually by making this change.

Millions!

And who knows, maybe this does not last forever.

Maybe the guest will feel differently in a few years and we will decide to go back to paying credit card fees ourselves.

More likely, though, this change will be permanent.

Either way, it provides instant cash flow at an unprecedented time.

Over to you. When will you test non-cash adjustment? How much will a successful program save you? If you don't know where to start, hit reply, email me, and I will help you by connecting you to the resources you need.