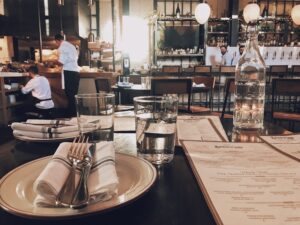 My clients have numerous considerable competitive advantages – with their guests and employees versus their competition – that show up on the bottom line.

One advantage? Their culture.
 
My clients and I make sure their restaurants truly represent their culture to every guest, every time – and that culture governs the way they work with employees, associates, and partners.

We have all been in restaurants with beautifully framed mission statement posters on the wall, elegant core values listed on shiny plaques…but a culture no one can feel.

Because no one has activated this culture.

In some cases, shocking amounts of manpower and money show up on the marketing line of those restaurants' P&Ls so they could craft these messages no one hears.

Who would want to be one of those operators?

 
Two Deceptively Simple Aspects of Culture


Devote the time: Culture makes money – money does not make culture.

Underline the importance of culture by devoting time to talk about it first and in-depth. Then follow through with your actions because, whatever your words may say, people will watch your behavior to understand your organization's emphasis.

If your one-on-one conversations and shift meetings, operations meetings, and staff meetings focus mostly on labor cost, cost management, or anything else to do with money, you create a mindset you don't want: that all you care about is money.
 
Tell stories: People started telling stories 30,000 years ago, so why stop now?

What do you really want to hear? That I care about people and honor relationships and regulars, and that I believe children are our future?

Or do you want to know – as my clients found out – that a manager had just paid for a meal for an out-of-work regular, overturned a long-standing "no substitutions" policy for a guest who showed the widest smile ever, comforted a baby (with parental permission, of course) to save a family meal from going downhill fast? How about the kitchen manager who came out from behind the line to make sure the table with special needs felt happy and safe, and those guests had told them that no one at another restaurant had ever cared so much?

Animate Your People, Not Your Website
 
Lead a spirited talk about culture first. Compile stories every day, assemble and circulate the blockbusters through a process of healthy competition between locations, and use the best of the best as folklore to train.

Adopting these simple techniques takes you from just having an awesome animated page about culture on your website to your culture impacting every guest and every employee every day.

Which protects you from the competition, and shows up on the P&L.

Over to you. Have you done enough to activate your culture? What steps are you going to take to correct that?