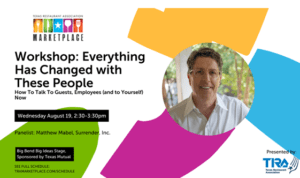 TRA Marketplace started yesterday.

If you missed the first day, don't panic! This year, it runs for six days – and, even better, it's virtual and free.

You can still register here so you get to log on, explore, and learn.

Participate this year – don't be a proud, rugged individual. 

While rugged individuals may retain their pride, the pandemic will crush their businesses.  

On the other hand, those who band together to navigate this mess will have solutions to help them survive, stabilize, and dominate. 

In a streamed workshop on Wednesday at 2:30 PM CDT, I will share the same advice my best clients follow on how to talk to leaders, managers, staff, and guests – and to yourself – both during and after the COVID-19 crisis.

How you treat them now will dictate whether you survive, stabilize, and dominate in the future.

EVERYTHING HAS CHANGED WITH THESE PEOPLE
How to Talk to Guests, Employees, (and to Yourself) Now
Streaming at 2:30 PM CDT Wednesday, August 19.

People drive our business. 

COVID-19 dictates that the best operators adjust not only the way they operate but also the way they treat people.

In this interactive presentation, I will guide you through new techniques developed specifically for my clients to deal with the current mindsets of managers, employees, and guests, while also taking care of yourself.

Build strong bonds with people so you won't lose them forever.

Log on, come and see me in 2D, and bring your questions and stories. 

Then, as soon as you exit your browser, put the techniques we will talk about to work to protect your restaurants and their future.

All my efforts during this crisis have been inspired by my desire for you to be able to navigate it – to make sure your restaurants survive, stabilize, and dominate their segment.