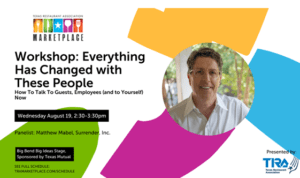 If you could take a time machine back to early March, you probably wouldn't recognize yourself, your guests, or your employees.

Remember that carefree childhood?

The COVID-19 crisis has changed us all.

We are living through one of the toughest times we will ever face (as grownups).

We have new concerns, perspectives, and needs that just didn't exist back then.

I want you to navigate this crisis – to make sure your restaurants survive, stabilize, and dominate their segment.

So I have created a workshop at this year's Texas Restaurant Association (TRA) Marketplace, which will stream for free at 2:30 PM CDT Wednesday, August 19. 

EVERYTHING HAS CHANGED WITH THESE PEOPLE – How to Talk To Guests, Employees, (and to Yourself) Now.
People drive our business.

COVID-19 dictates that the best operators not only adjust the way they operate but also the way they treat people.

In this interactive presentation, I will guide you through new techniques developed specifically for my clients to deal with the current mindsets of managers, employees, and guests, while also taking care of yourself.

Build strong bonds with people instead of losing them forever.

Log on, come and see me in 2D, and bring your questions and stories.

Then, put these techniques to work as soon as you exit your browser.

Wednesday, August 19, at 2:30 PM CDT.

Put that on your calendar!
TRA Marketplace is Virtual
The TRA Marketplace starts Sunday, August 16, as a six-day virtual conference.

Like a restaurant that used to not offer to-go food, this conference has completely refocused itself to help you survive this mess.

No travel, no parking fees, no hauling your sweaty self in and out of a hot car.

But, admittedly, there will be no pool parties.

You'll be able to attend streamed educational sessions and product demos from the comfort of your own device.

Go to a session between working meal periods in your restaurants – whether you live in Texas or out of state or somewhere else in the world in any time zone.

Summer 2020 proves to be the most important time to reach outside your organization for information and ideas that help you survive, stabilize, and prepare to dominate. 
Put Real-Time Information to Work
The TRA Marketplace conference is free to restaurants, and my best clients have signed up themselves and their leadership teams for it HERE.

Review the six-day agenda and assign different sessions to your people so they can come back to weekly operations meetings and corporate huddles and report on what they've learned – and how to apply learning.
See you next week!